---
26 And in a similar way, the Holy Spirit takes hold of us in our human frailty to empower us in our weakness. For example, at times we don't even know how to pray, or know the best things to ask for. But the Holy Spirit rises up within us to super-intercede[a] on our behalf, pleading to God with emotional sighs[b] too deep for words.
27 God, the searcher of the heart, knows fully our longings,[c] yet he also understands the desires of the Spirit, because the Holy Spirit passionately pleads before God for us, his holy ones, in perfect harmony with God's plan and our destiny.
Read full chapter
Footnotes
8:26 The Greek word hupererentugkhano is best translated "super [or hyper]-intercede for us." We can only imagine how many blessings have poured into our lives because of the hyper-intercession of the Holy Spirit for us!
8:26 Or "groanings." We find three groanings in this chapter. Creation groans for the glorious freedom of God's children (v. 22), we groan to experience the fullness of our status as God's children (v. 23), and the Holy Spirit groans for our complete destiny to be fulfilled (here).
8:27 Or "God, the heart-searcher." God searches our hearts not just to uncover what is wrong, but to fulfill the true desire of our hearts to be fully his. Grace triumphs over judgment.
The Passion Translation (TPT)
The Passion Translation®. Copyright © 2017, 2018, 2020 by Passion & Fire Ministries, Inc.
Used by permission. All rights reserved. thePassionTranslation.com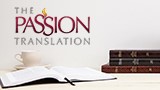 Bible Gateway Recommends
The Passion Translation: Letters of Love: From Peter, John, and Jude
Retail: $14.99
Our Price: $10.99
Save: $4.00 (27%)
The Passion Translation New Testament (2020 Edition): With Psalms, Proverbs and Song of Songs - eBook
Retail: $9.99
Our Price: $7.99
Save: $2.00 (20%)
Genesis 2020 edition: Firstfruits, Paperback
Retail: $16.99
Our Price: $11.99
Save: $5.00 (29%)
The Passion Translation: Psalms & Proverbs - Imitation Leather
Retail: $24.99
Our Price: $16.99
Save: $8.00 (32%)
TPT Compact New Testament with Psalms, Proverbs and Song of Songs, 2020 Edition--imitation leather, brown
Retail: $29.99
Our Price: $19.99
Save: $10.00 (33%)
TPT Large-Print New Testament with Psalms, Proverbs, and Song of Songs, 2020 Edition--imitation leather, teal
Retail: $59.99
Our Price: $38.99
Save: $21.00 (35%)