---
4 His massive arms[a] are wrapped around you, protecting you.
You can run under his covering of majesty and hide.
His arms of faithfulness are a shield keeping you from harm.
5 You will never worry about an attack of demonic forces at night
nor have to fear a spirit of darkness coming against you.
6 Don't fear a thing!
Whether by night or by day, demonic danger will not trouble you,[b]
nor will the powers of evil be launched against you.
7 Even in a time of disaster, with thousands and thousands being killed,
you will remain unscathed and unharmed.
8 You will be a spectator as the wicked perish in judgment,
for they will be paid back for what they have done!
9–10 When we live our lives within the shadow of God Most High,
our secret hiding place, we will always be shielded from harm.
How then could evil prevail against us or disease infect us?
11 God sends angels with special orders to protect you wherever you go,
defending you from all harm.
12 If you walk into a trap, they'll be there for you
and keep you from stumbling.
13 You'll even walk unharmed among the fiercest powers of darkness,[c]
trampling every one of them beneath your feet!
Read full chapter
Footnotes
91:4 Or "wings." Also found in the next sentence, "under his wings," which speaks not of God having wings, but of the wings of the cherubim resting on the mercy seat. The implication is that we can always come to the mercy seat and rest without fear.
91:6 Verses 5–6 are seen by many Jewish scholars as a reference not merely to pestilence and natural dangers but to the realm of spiritual darkness that would come against God's servants. These spirits are equated to "arrows that fly in daytime" or "a pestilence that walks" in the darkness. God's sheltered ones are kept from the harm that could come from natural sources or supernatural sources. What a wonderful place to hide and be secure!
91:13 The Hebrew includes the words for "lions," "snakes," and "dragons" as the three great symbols of satanic power.
The Passion Translation (TPT)
The Passion Translation®. Copyright © 2017, 2018, 2020 by Passion & Fire Ministries, Inc.
Used by permission. All rights reserved. thePassionTranslation.com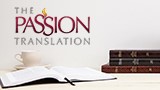 Bible Gateway Recommends
The Passion Translation New Testament (2020 Edition): With Psalms, Proverbs and Song of Songs - eBook
Retail: $9.99
Our Price: $7.99
Save: $2.00 (20%)
TPT: The Books of Joshua, Judges, Ruth
Retail: $16.99
Our Price: $10.99
Save: $6.00 (35%)
The Passion Translation (TPT): The Life of Jesus, Harmonized Gospels (Reader's Edition), imitation leather, black
Retail: $19.99
Our Price: $12.99
Save: $7.00 (35%)
The Story of Jesus: and His Love for You, Paperback
Retail: $4.99
Our Price: $4.19
Save: $0.80 (16%)
TPT Large-Print New Testament with Psalms, Proverbs and Song of Songs, 2020 Edition--imitation leather, navy blue
Retail: $59.99
Our Price: $36.99
Save: $23.00 (38%)
TPT Compact Youth New Testament with Psalms, Proverbs, and Song of Songs, 2020 Edition--imitation leather, pink (butterfly)
Retail: $29.99
Our Price: $18.99
Save: $11.00 (37%)