---
Forgiven
A poem of insight and instruction by King David[a]
32 What bliss belongs to the one
whose rebellion has been forgiven,[b]
those whose sins are covered by blood.
2 What bliss belongs to those
who have confessed their corruption[c] to God!
For he wipes their slates clean
and removes hypocrisy from their hearts.
3 Before I confessed my sins, I kept it all inside;
my dishonesty devastated my inner life,
causing my life to be filled with frustration,
irrepressible anguish, and misery.
4 The pain never let up, for your hand of conviction
was heavy on my heart.
My strength was sapped, my inner life dried up
like a spiritual drought within my soul.
Pause in his presence
5 Then I finally admitted to you all my sins,
refusing to hide them any longer.
I said, "My life-giving God,
I will openly acknowledge my evil actions."
And you forgave me!
All at once the guilt of my sin washed away
and all my pain disappeared!
Pause in his presence
6 This is what I've learned through it all:
All believers should confess their sins to God;
do it every time God has uncovered you
in the time of exposing.
For if you do this, when sudden storms of life overwhelm,
you'll be kept safe.
7 Lord, you are my secret hiding place,
protecting me from these troubles,
surrounding me with songs of gladness!
Your joyous shouts of rescue release my breakthrough.
Pause in his presence
8–9 I hear the Lord saying, "I will stay close to you,
instructing and guiding you along the pathway for your life.
I will advise you along the way
and lead you forth with my eyes as your guide.
So don't make it difficult; don't be stubborn
when I take you where you've not been before.
Don't make me tug you and pull you along.
Just come with me!"
10 So my conclusion is this:
Many are the sorrows and frustrations
of those who don't come clean with God.
But when you trust in the Lord for forgiveness,
his wraparound love will surround you.
11 So celebrate the goodness of God!
He shows this kindness to everyone who is his.
Go ahead—shout for joy,
all you upright ones who want to please him!
Footnotes
32 David wrote this psalm after he seduced the wife of his most loyal soldier, then had him killed to try to keep her pregnancy a secret. This sin with Bathsheba brought great disgrace to David, yet he found complete forgiveness in God's mercy. The apostle Paul chose the first two verses of Ps. 32 to support the important doctrine of salvation by grace through faith. See Rom. 4:5–8. This was Augustine's favorite psalm. He had it written on the wall near his bed before he died so he could meditate on it.
32:1 The Hebrew word for "forgiven" means "lifted off." Sin's guilt is a burden that must be lifted off our souls. The Septuagint reads "because they have not hidden their sins."
32:2 David used three Hebrew words to describe sin in these first two verses: "rebellion," "sins" (failures, falling short), and "corruption" (crookedness, the twisting of right standards).
The Passion Translation (TPT)
The Passion Translation®. Copyright © 2017, 2018, 2020 by Passion & Fire Ministries, Inc.
Used by permission. All rights reserved. thePassionTranslation.com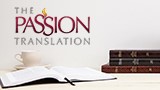 Bible Gateway Recommends
The Passion Translation (TPT): New Testament with Psalms, Proverbs, and Song of Songs - 2nd edition, imitation leather, red
Retail: $49.99
Our Price: $21.99
Save: $28.00 (56%)

TPT Large-Print New Testament with Psalms, Proverbs and Song of Songs, 2020 Edition--imitation leather, violet
Retail: $59.99
Our Price: $39.99
Save: $20.00 (33%)

TPT Large-Print New Testament with Psalms, Proverbs and Song of Songs, 2020 Edition--imitation leather, burgundy
Retail: $59.99
Our Price: $39.99
Save: $20.00 (33%)

The Passion Translation: Psalms & Proverbs - Imitation Leather
Retail: $24.99
Our Price: $16.99
Save: $8.00 (32%)
The Passion Translation: Song of Songs - Divine Romance
Retail: $9.99
Our Price: $7.49
Save: $2.50 (25%)

The Passion Translation (TPT): The Life of Jesus, Harmonized Gospels (Reader's Edition), imitation leather, black
Retail: $19.99
Our Price: $12.49
Save: $7.50 (38%)