---
A Song for Passover
114 Many years ago the Jewish people escaped Egypt's tyranny,
2 so that Israel, God's people of praise,[a]
would become his holy sanctuary,
his kingdom on the earth.
3 The Red Sea waters saw them coming and ran the other way!
Then later, the Jordan River too
moved aside so that they could all pass through.
4 The land shuddered with fear.
Mountains and hills shook with dread.[b]
5 O sea, what happened to you to make you flee?
O Jordan, what was it that made you turn and run?
6 O mountains, what frightened you so?
And you hills, what made you shiver?
7 Tremble, O earth, for you are in the presence of the Lord,
the presence of the God of Jacob.
8 He splits open boulders and brings up bubbling water.
Gushing streams burst forth when he is near!
The Passion Translation (TPT)
The Passion Translation®. Copyright © 2017, 2018, 2020 by Passion & Fire Ministries, Inc.
Used by permission. All rights reserved. thePassionTranslation.com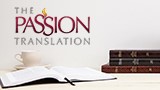 Bible Gateway Recommends
1 & 2 Thessalonians, Titus & Philemon: A Godly Life - eBook
Retail: $9.99
Our Price: $7.99
Save: $2.00 (20%)

The Passion Translation: Song of Songs - Divine Romance
Retail: $9.99
Our Price: $7.49
Save: $2.50 (25%)

TPT Large-Print New Testament with Psalms, Proverbs and Song of Songs, 2020 Edition--imitation leather, brown
Retail: $59.99
Our Price: $37.99
Save: $22.00 (37%)

TPT Large-Print New Testament with Psalms, Proverbs, and Song of Songs, 2020 Edition--imitation leather, teal
Retail: $59.99
Our Price: $37.99
Save: $22.00 (37%)
The Book of Isaiah: The Vision - eBook
Retail: $9.99
Our Price: $7.99
Save: $2.00 (20%)
TPT New Testament with Psalms, Proverbs and Song of Songs, 2020 Edition--cloth over board, berry blossoms
Retail: $39.99
Our Price: $23.99
Save: $16.00 (40%)