---
11 For the Lord God is brighter than the brilliance of a sunrise!
Wrapping himself around me like a shield,
he is so generous with his gifts of grace and glory.
Those who walk along his paths with integrity
will never lack one thing they need, for he provides it all!
Read full chapter
The Passion Translation (TPT)
The Passion Translation®. Copyright © 2017, 2018, 2020 by Passion & Fire Ministries, Inc.
Used by permission. All rights reserved. thePassionTranslation.com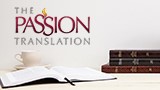 Bible Gateway Recommends
The Book of Genesis: Firstfruits - eBook
Retail: $9.99
Our Price: $7.99
Save: $2.00 (20%)
TPT Compact New Testament with Psalms, Proverbs and Song of Songs, 2020 Edition--imitation leather, charcoal
Retail: $29.99
Our Price: $19.99
Save: $10.00 (33%)
TPT The Book of Isaiah: The Vision
Retail: $16.99
Our Price: $9.49
Save: $7.50 (44%)
TPT Compact New Testament with Psalms, Proverbs and Song of Songs, 2020 Edition--imitation leather, navy blue
Retail: $29.99
Our Price: $19.99
Save: $10.00 (33%)
The Passion Translation (TPT): New Testament with Psalms, Proverbs, and Song of Songs - 2nd edition, imitation leather, brown
Retail: $49.99
Our Price: $21.99
Save: $28.00 (56%)
TPT Large-Print New Testament with Psalms, Proverbs, and Song of Songs, 2020 Edition--imitation leather, teal
Retail: $59.99
Our Price: $37.99
Save: $22.00 (37%)