---
Jesus and John the Baptizer
11 After Jesus finished giving instructions to his twelve disciples, he went on to minister in different villages throughout the region.
2 Now, while John the Baptizer was in prison, he heard about the wonderful deeds of the Christ, so he sent his disciples to ask him this question: 3 "Are you really the one the prophets said would come, or should we still wait for another?"
4 Jesus answered them, "Give John this report: 5 'The blind see again, the crippled walk, lepers are cured, the deaf hear, the dead are raised back to life, and the poor and broken now hear of the hope of salvation!'[a] 6 And tell John that the blessing of heaven comes to those who are not offended over me."
7 As they were leaving, Jesus began to speak to the crowd about John. "What kind of man did you see when you went out into the wilderness? Did you expect to see a man who would be easily intimidated?[b] 8 Who was he? Did you expect to see a man decked out in the splendid fashion of the day?[c] Those who wear fancy clothes live like kings in palaces. 9 Or did you encounter a true prophet out in the lonely wilderness? Yes, John was a prophet like those of the past, but he is even more than that! 10 He was the fulfillment of this Scripture:
See, I am sending my prophetic messenger[d]
who will go ahead of me
and prepare hearts to receive me.[e]
11 "For I tell you the truth, throughout history there has never been a man who surpasses John the Baptizer. Yet the least of those who now experience heaven's kingdom will become even greater than he. 12 From the moment John stepped onto the scene until now, the realm of heaven's kingdom is bursting forth, and passionate people have taken hold of its power.[f] 13 For all the prophets and the Torah[g] prophesied until John appeared. 14 If you can receive this truth, John is the Elijah who was destined to come. 15 So listen and understand what I'm telling you.[h]
16 "How could I describe the people of this generation? You're like children playing games on the playground,[i] yelling at their playmates, 17 'You don't like it when we want to play Wedding! And you don't like it when we want to play Funeral! You will neither dance nor mourn.' 18 Why is it that when John came to you, neither feasting nor drinking wine, you said, 'He has a demon in him!'? 19 Yet when the Son of Man came and went to feasts and drank wine, you said, 'Look at this man! He is nothing but a glutton and a drunkard! He spends all his time with tax collectors and other sinners.'[j] But God's wisdom will become visible by those who embrace it."[k]
Jesus Criticizes Unrepentant Cities
20 Then Jesus began to openly denounce the cities where he had done most of his mighty miracles, because the people failed to turn away from sin and return to God. 21 He said, "How tragic it will be for the city of Korazin! And how horrible for the city of Bethsaida! For if the powerful miracles that I performed in Korazin and Bethsaida had been done in Tyre and Sidon,[l] they would have humbled themselves and repented, and turned from their sins. 22 Tyre and Sidon[m] will be better off on judgment day than you! 23 And Capernaum—do you really think you'll be exalted because of the great miracles I have done there? No! You'll be brought down to the depths of hell[n] because of your rejection of me. For if the miracles I worked in your streets were done in Sodom, it would still be standing today! 24 But I tell you, it will be more bearable for the region of Sodom in the day of judgment than it will be for you."
Jesus Invites Everyone to Come
25 Then Jesus exclaimed, "Father, thank you, for you are Lord, the Supreme Ruler over heaven and earth! And you have hidden the great revelation of your authority from those who are proud and think they are wise and unveiled it instead to little children. 26 Yes, Father, you've chosen this gracious plan to extend your kingdom. 27 You have entrusted me with all that you are and all that you have. No one fully and intimately knows the Son except the Father. And no one fully and intimately knows the Father except the Son. But the Son is able to unveil the Father to anyone he chooses.
28 "Are you weary, carrying a heavy burden? Come to me.[o] I will refresh your life, for I am your oasis.[p] 29 Simply join your life with mine.[q] Learn my ways and you'll discover that I'm gentle,[r] humble, easy to please. You will find refreshment and rest in me.[s] 30 For all that I require of you will be pleasant[t] and easy to bear."[u]
The Passion Translation (TPT)
The Passion Translation®. Copyright © 2017, 2018, 2020 by Passion & Fire Ministries, Inc.
Used by permission. All rights reserved. thePassionTranslation.com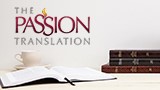 Bible Gateway Recommends
The Story of Christmas, Paperback
Retail: $2.99
Our Price: $1.99
Save: $1.00 (33%)
The Passion Translation (TPT): New Testament with Psalms, Proverbs, and Song of Songs - 2nd edition, imitation leather, red
Retail: $49.99
Our Price: $21.99
Save: $28.00 (56%)

The Book of Isaiah: The Vision - eBook
Retail: $9.99
Our Price: $7.99
Save: $2.00 (20%)
TPT Compact Youth New Testament with Psalms, Proverbs, and Song of Songs, 2020 Edition--imitation leather, pink (butterfly)
Retail: $29.99
Our Price: $19.99
Save: $10.00 (33%)
TPT New Testament with Psalms, Proverbs and Song of Songs, 2020 Edition--hardcover, floral
Retail: $29.99
Our Price: $17.99
Save: $12.00 (40%)
TPT Compact New Testament with Psalms, Proverbs and Song of Songs, 2020 Edition--imitation leather, teal
Retail: $29.99
Our Price: $19.99
Save: $10.00 (33%)