---
16 For here is the way God loved the world—he gave his only, unique Son as a gift.[a] So now everyone who believes in him[b] will never perish but experience everlasting life.
Read full chapter
Footnotes
3:16 Or "God proved he loved the world by giving his Son."
3:16 Or "believe into him." Salvation and regeneration come only by faith. True faith (Gr. pistis) contains a number of components: acceptance, embracing something (someone) as truth, union with God and his Word, and an inner confidence that God alone is enough.
The Passion Translation (TPT)
The Passion Translation®. Copyright © 2017, 2018, 2020 by Passion & Fire Ministries, Inc.
Used by permission. All rights reserved. thePassionTranslation.com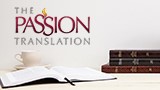 Bible Gateway Recommends
The Passion Translation (TPT): Song of Songs, 2nd edition
Retail: $9.99
Our Price: $6.99
Save: $3.00 (30%)
TPT Large-Print New Testament with Psalms, Proverbs and Song of Songs, 2020 Edition--imitation leather, navy blue
Retail: $59.99
Our Price: $38.49
Save: $21.50 (36%)

TPT Compact Youth New Testament with Psalms, Proverbs, and Song of Songs, 2020 Edition--imitation leather, black (kevlar)
Retail: $29.99
Our Price: $19.99
Save: $10.00 (33%)
The Story of Christmas, Paperback
Retail: $2.99
Our Price: $1.49
Save: $1.50 (50%)
TPT New Testament with Psalms, Proverbs and Song of Songs, 2020 Edition--hardcover, ivory
Retail: $29.99
Our Price: $17.99
Save: $12.00 (40%)
The Passion Translation (TPT): New Testament with Psalms, Proverbs, and Song of Songs - 2nd edition, imitation leather, brown
Retail: $49.99
Our Price: $21.99
Save: $28.00 (56%)