---
10 Even if the mountains were to crumble
and the hills disappear,
my heart of steadfast, faithful love
will never leave you,
and my covenant of peace[a] with you will never be shaken,"
says Yahweh,
whose love and compassion[b] will never give up on you.
Read full chapter
Footnotes
Isaiah 54:10 This is the covenant of shalom that God has made with us, his people. God's covenant promise is that his shalom ("peace, prosperity, success, wholeness, and well-being") will be our portion all our days on earth. See Eph. 2:14.
Isaiah 54:10 The Hebrew word for "compassion" (racham) means "to love deeply, like a mother's love." Racham is a homonym for "womb," with an implication that God's love is like the love of a mother carrying a child in her womb.
The Passion Translation (TPT)
The Passion Translation®. Copyright © 2017, 2018, 2020 by Passion & Fire Ministries, Inc.
Used by permission. All rights reserved. thePassionTranslation.com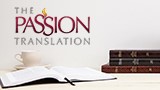 Bible Gateway Recommends
The Passion Translation: Proverbs - Wisdom from Above
Retail: $14.99
Our Price: $10.99
Save: $4.00 (27%)
TPT Compact Youth New Testament with Psalms, Proverbs, and Song of Songs, 2020 Edition--imitation leather, pink (butterfly)
Retail: $29.99
Our Price: $19.99
Save: $10.00 (33%)
TPT Large-Print New Testament with Psalms, Proverbs and Song of Songs, 2020 Edition--imitation leather, brown
Retail: $59.99
Our Price: $37.99
Save: $22.00 (37%)
The Passion Translation (TPT): Psalms, 2nd edition - Slightly Imperfect
Retail: $19.99
Our Price: $4.99
Save: $15.00 (75%)
TPT Large-Print New Testament with Psalms, Proverbs and Song of Songs, 2020 Edition--imitation leather, navy blue
Retail: $59.99
Our Price: $38.49
Save: $21.50 (36%)
The Book of Isaiah: The Vision - eBook
Retail: $9.99
Our Price: $7.99
Save: $2.00 (20%)