---
God's Complete Knowledge and Care[a]
139 Lord, you have examined me and you know me.
2 You know everything I do;
from far away you understand all my thoughts.
3 You see me, whether I am working or resting;
you know all my actions.
4 Even before I speak,
you already know what I will say.
5 You are all around me on every side;
you protect me with your power.
6 Your knowledge of me is too deep;
it is beyond my understanding.
Read full chapter
New International Version
Psalm 139
For the director of music. Of David. A psalm.
1 You have searched me,(A) Lord,
and you know(B) me.
2 You know when I sit and when I rise;(C)
you perceive my thoughts(D) from afar.
3 You discern my going out(E) and my lying down;
you are familiar with all my ways.(F)
4 Before a word is on my tongue
you, Lord, know it completely.(G)
5 You hem me in(H) behind and before,
and you lay your hand upon me.
6 Such knowledge is too wonderful for me,(I)
too lofty(J) for me to attain.
Read full chapter
139 1-6 God, investigate my life;
get all the facts firsthand.
I'm an open book to you;
even from a distance, you know what I'm thinking.
You know when I leave and when I get back;
I'm never out of your sight.
You know everything I'm going to say
before I start the first sentence.
I look behind me and you're there,
then up ahead and you're there, too—
your reassuring presence, coming and going.
This is too much, too wonderful—
I can't take it all in!
Read full chapter
13 You created every part of me;
you put me together in my mother's womb.
14 I praise you because you are to be feared;
all you do is strange and wonderful.
I know it with all my heart.
15 When my bones were being formed,
carefully put together in my mother's womb,
when I was growing there in secret,
you knew that I was there—
16  you saw me before I was born.
The days allotted to me
had all been recorded in your book,
before any of them ever began.
17 (A)O God, how difficult I find your thoughts;[a]
how many of them there are!
18 If I counted them, they would be more than the grains of sand.
When I awake, I am still with you.
Read full chapter
Footnotes
Psalm 139:17 how difficult I find your thoughts; or how precious are your thoughts to me.
New International Version
13 For you created my inmost being;(A)
you knit me together(B) in my mother's womb.(C)
14 I praise you(D) because I am fearfully and wonderfully made;
your works are wonderful,(E)
I know that full well.
15 My frame was not hidden from you
when I was made(F) in the secret place,
when I was woven together(G) in the depths of the earth.(H)
16 Your eyes saw my unformed body;
all the days ordained(I) for me were written in your book
before one of them came to be.
17 How precious to me are your thoughts,[a](J) God!(K)
How vast is the sum of them!
18 Were I to count them,(L)
they would outnumber the grains of sand(M)—
when I awake,(N) I am still with you.
Read full chapter
Footnotes
Psalm 139:17 Or How amazing are your thoughts concerning me
13-16 Oh yes, you shaped me first inside, then out;
you formed me in my mother's womb.
I thank you, High God—you're breathtaking!
Body and soul, I am marvelously made!
I worship in adoration—what a creation!
You know me inside and out,
you know every bone in my body;
You know exactly how I was made, bit by bit,
how I was sculpted from nothing into something.
Like an open book, you watched me grow from conception to birth;
all the stages of my life were spread out before you,
The days of my life all prepared
before I'd even lived one day.
17-22 Your thoughts—how rare, how beautiful!
God, I'll never comprehend them!
I couldn't even begin to count them—
any more than I could count the sand of the sea.
Oh, let me rise in the morning and live always with you!
And please, God, do away with wickedness for good!
And you murderers—out of here!—
all the men and women who belittle you, God,
infatuated with cheap god-imitations.
See how I hate those who hate you, God,
see how I loathe all this godless arrogance;
I hate it with pure, unadulterated hatred.
Your enemies are my enemies!
Read full chapter
Good News Translation (GNT)
Copyright © 1992 by American Bible Society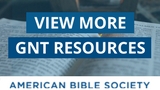 New International Version (NIV)
Holy Bible, New International Version®, NIV® Copyright ©1973, 1978, 1984, 2011 by Biblica, Inc.® Used by permission. All rights reserved worldwide.
NIV Reverse Interlinear Bible: English to Hebrew and English to Greek. Copyright © 2019 by Zondervan.