---
The Truth Shall Make You Free
31 Then Jesus said to those Jews who believed Him, "If you (A)abide in My word, you are My disciples indeed. 32 And you shall know the (B)truth, and (C)the truth shall make you free."
Read full chapter
New American Standard Bible
The Truth Will Make You Free
31 So Jesus was saying to those Jews who had believed Him, "(A)If you continue in My word, then you are truly (B)disciples of Mine; 32 and (C)you will know the truth, and (D)the truth will make you free."
Read full chapter
Young's Literal Translation
31 Jesus, therefore, said unto the Jews who believed in him, `If ye may remain in my word, truly my disciples ye are, and ye shall know the truth,
32 and the truth shall make you free.'
Read full chapter
New King James Version (NKJV)
Scripture taken from the New King James Version®. Copyright © 1982 by Thomas Nelson. Used by permission. All rights reserved.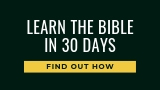 New American Standard Bible (NASB)
Copyright © 1960, 1962, 1963, 1968, 1971, 1972, 1973, 1975, 1977, 1995 by The Lockman Foundation