Do you tend to avoid studying books of the Bible like Revelation and Ezekiel? Does it feel like words such as rapture and apocalypse fly right over your head? It's common to dismiss these and other topics related to Bible prophecy as irrelevant or too complicated.
Bible Gateway interviewed Todd Hampson (@thampson) about his book, The Non-Prophet's Guide™ to the End Times: Bible Prophecy for Everyone (Harvest House Publishers, 2018).
Explain the title of the book and its format.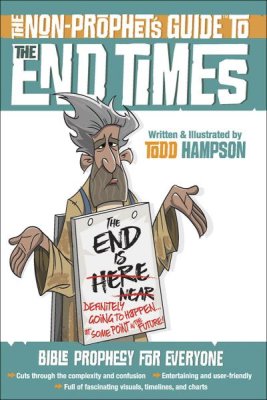 Todd Hampson: The Non-Prophet's Guide™ to the End Times features a comical character known as the Non-Prophet. He always gets prophecy wrong and doesn't make wise business decisions, so he's the Non-Prophet on both levels. I wanted to develop a systematic book on prophecy that didn't feel like a seminary textbook and that would appeal to a younger, visual-driven generation. I also wanted to use humor to disarm the subject a bit. I really wanted to produce a book that made Bible prophecy accessible and attractive to everyone.
It starts with the very basics of Bible prophecy and systematically—and entertainingly—takes people on a journey through all key aspects of Bible prophecy. By the end of the book readers will understand the importance and relevance of Bible prophecy, the key terms, key sections, interpretation methods, key end-time views, key signs, and how we're to live today!
Each chapter builds on the previous chapter in a logical and solidly biblical way so that readers can actually develop convictions, hope, and confidence in God's Word as they work through the book.
What is Bible prophecy and why is it important?
Todd Hampson: Bible prophecy is simply God telling history in advance. A full one-third of the Bible is prophecy. I call it the central nervous system of Scripture. Every key story, personality, theme, and theological category connect to Bible prophecy. There are over 2500 prophetic details recorded in the Bible and 80% of those have already been fulfilled! That's no small down payment on accuracy.
God is a promise-keeper and ties his character to the fulfillment of Bible prophecy. In Isaiah 46:9-10 God says, "Remember the former things, those of long ago; I am God, and there is no other; I am God, and there is none like me. I make known the end from the beginning, from ancient times, what is still to come. I say, 'My purpose will stand, and I will do all that I please.'"
How does Bible prophecy prove divine authorship?
Todd Hampson: The Bible is the only "religion-founding book" that claims to be the very word of God or contains detailed predictive prophecy. This astounding fact separates the Bible from any other book ever written. Fulfilled Bible prophecy is the key proof that it's divine in nature and can be trusted. Hundreds of prophecies have been literally fulfilled just as predicted in Scripture.
The Old Testament contains over 300 prophecies (109 distinct) about the first coming of Christ. It's statistically impossible for one person to have fulfilled all of them. There are also major prophecies about successive empires (Daniel chapter 2), the rebirth of Israel, and several mind-blowing details related to the Jewish people, Jerusalem, and other details we've seen fulfilled in our generation.
Verifiable fulfilled prophecies of this magnitude, accuracy, and consistency demonstrate that the Bible is from God. There simply is no other explanation.
What are the benefits of studying Bible prophecy?
Todd Hampson: There are so many benefits to studying Bible prophecy but if I were to categorize them the primary benefits I would cite would be: discipleship, evangelism, and developing a thoroughly biblical worldview. Studying prophecy forces you to study in-depth and as you do that, you bump into a ton of hidden gems as the puzzle pieces come together. It's not a mechanical intellectual pursuit. Rather, it's an adventurous treasure hunt that keeps you coming back to discover more. That causes automatic growth as you learn more about God, his nature, and everything related to our faith.
It also lights a fire under us to share our faith with others as we're faced with the reality that God means what he says and says what he means. As we study prophecy, we gain the perspective that the Lord's return and the rapture of the church could very well happen in our generation; we want to help rescue others from the terrible events that follow. Even if we're misreading the signposts of his return, no-one is guaranteed their next breath and the study of prophecy reminds us that this is not our home. Life is short and eternity is long.
As I mentioned, prophecy touches on every aspect of theology and helps us see the momentous events in the Bible in their complete context. This gives us a much better understanding of how God has worked in the past, what he says will happen in the future, and how we should best live today. It really provides an exciting means of developing a thoroughly biblical worldview.
What are the different views of interpreting Bible prophecy?
Todd Hampson: There are four primary ways that people have interpreted future Bible prophecy: Idealist, Historicist, Preterist, and Futurist. Idealists believe that Revelation is all allegory. Historicists believe Revelation is just an overview of all of church history from John's time until the end. Preterists believe the events of Revelation have all already occurred—primarily in AD 70 when the Romans destroyed Jerusalem. Futurists believe the events of Revelation that John said were future are yet future and will be fulfilled as stated at the time of the end.
The futurist position is the only position that does not spiritualize the text. All of the other three must interpret John's writing as allegory in one way or another. There are many problems with this, the main issues being that there's no consistent way to interpret what it all means, and that by definition they must switch interpretation methods since all fulfilled prophecy was fulfilled literally.
The futurist position is the only one of the four that uses the same interpretation method throughout Scripture. Both Old and New Testament prophecy is interpreted as being literally fulfilled. John says his book is prophecy and the book itself provides its own outline demonstrating that the majority of it (chapters 4 to the end of Revelation) is future prophecy that occurs at the conclusion of the current church age. In Revelation 1:19, Jesus gave John the outline and nature of the book when he said, "Write, therefore, what you have seen (1:1-19), what is now (1:20-3:21) and what will take place later (4:21-the end of the book)."
I also cover the various views of the order of end-time events. I talk about the importance of unity in the body of Christ, even when good, smart people disagree on the order of end-time events. Then I present the three main views of the rapture and the millennial kingdom along with strengths and weaknesses of each. I present the key things I see in Scripture that cause me to hold to the pre-trib, pre-mil view, but in a way that's respectful and highlights unity in the body of Christ where secondary issues are involved.
What is your objective in writing this book?
Todd Hampson: My real goal with this book was to produce something that anyone could pick up and learn about Bible prophecy, even if they had no interest in the topic or were scared of the topic. There are some great books on Bible prophecy, but I wanted to produce one that used humor, art, easy-to-understand charts, and a simple and logical systematic format that takes readers from confusion and ambiguity to confidence, clarity, and hope.
I also wanted it to appeal to non-Christians. I have a goofy character known as the Non-Prophet who always gets prophecy wrong and can't put together any good business ideas. He's the epitome of the phrase, "a day late and a dollar short." I put him on the cover and in several comic strips throughout the book and my hope is that the comedy and the format will pique the curiosity of non-Christians who will pick up the book and be drawn in by the art and humor.
What is a favorite Bible passage of yours and why?
Todd Hampson: There are two in particular that the Lord has been encouraging me with recently. Luke 21:28 and John 20:29. In Luke 21:28 Jesus was describing the birth pain-like signs that would characterize the end of the church age and he said, "When these things begin to take place, stand up and lift up your heads, because your redemption is drawing near." This verse gives us hope and direction in our day.
Then in John 20:29, we read another powerful statement from Jesus. We read this, "Then Jesus told him, 'Because you have seen me, you have believed; blessed are those who have not seen and yet have believed.'" The first and second coming are replete with miraculous intersections of the seen and unseen realms. Belief in these events seems foolish or even crazy to the unbelieving world—yet those of us who know the Lord believe it is all real. Again, the massive amount of specific fulfilled prophecy lets us know God's Word is true, and we're given this beautiful promise that we who have believed because of evidence—but not visual, undeniable proof—will be blessed in a special way!
What are your thoughts about Bible Gateway and the Bible Gateway App and Bible Audio App?
Todd Hampson: Wow. I use it all the time! When I write books, I literally have Bible Gateway open on my other screen for quick access. The commentaries, dictionary, and other resources on the site are so helpful. Thank you for this amazing resource!
Is there anything else you'd like to say?
Todd Hampson: Just that I believe Bible prophecy is more relevant today than it's ever been, yet the enemy has convinced so many that the topic of Bible prophecy and the Lord's return are irrelevant distractions. I've been praying along with many others that The Non-Prophet's Guide™ to the End Times will break these myths, help a new generation discover Bible prophecy, and lead many non-believers to faith in Jesus Christ. I pray this book will get in as many hands as the Lord sees fit. Finally, I just want God to get all of the glory. I'm a Non-Prophet myself in many ways. I've never been to seminary or worked in full-time ministry. I'm just a normal Christian with a passion for God's truth. If I can figure this out anyone can! Prophecy is not hard to understand, it just takes time. I hope my book helps spark an interest and gets people up to speed quickly as they discover the hidden treasure waiting for them.
---
Bio: Todd Hampson is an author, illustrator, and animation producer. In addition to founding Timbuktoons, LLC, an award-winning animation company, he has worked on projects for clients such as Phil Vischer, Life.Church, The Salvation Army, and Compassion International. Todd and his wife have three children and make their home in Georgia.
Study prophecy and other Bible subjects with confidence and convenience by becoming a member of Bible Gateway Plus. Try it right now!