Editor's Note: As a special feature, bestselling author and speaker Ann Spangler (@annspangler) is conducting a 5-part brief video class offering surprising insights into five fascinating men and women of the Bible. Ann explores these and many more people of the Bible in her new book, Less Than Perfect: Broken Men and Women of the Bible and What We Can Learn from Them (Zondervan, 2018). Read Ann's introduction below and then learn from her first video lesson about Adam. Come back each day this week to learn about Sarah, David, Gomer, and Judas.
[Subscribe to Ann Spangler's free email devotionals, Women of the Bible and Men of the Bible]
---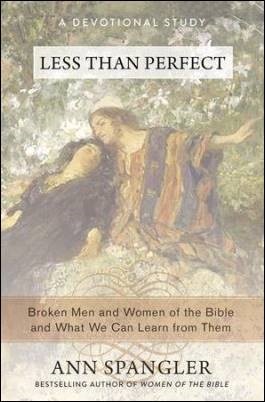 Dear Friends,
As much as I love the Bible, I'm not surprised that many people find it intimidating. They may even have fallen asleep, as I have done, while reading it. My own Bible weighs in at over 4 pounds and is 2,358 pages long! What's more, it was written in unfamiliar historical and cultural contexts that can make it easy to misunderstand. Even so, it's hard to flourish spiritually without engaging with God's Word on a regular basis.
Though the Bible contains laws, prophecies, proverbs, and poetry, the spine of the Bible, the thing that holds it all together is its stories. Ultimately, from the first page to the last, there is only ONE BIG STORY being told and that is the story of how God created the world, how everything broke, and what God's plan is for restoring it—and us. By reading and understanding story after story in the order they appear in the Bible, you begin to see the great sweep of salvation history moving forward through many improbable characters.
One of the things that makes the Bible so believable is that it never whitewashes its characters, most of whom are flawed. If the Bible were propaganda, its great heroes would be perfect. But that's certainly not the case for Abraham, Sarah, Jacob, Rahab, David, Peter, and many others.
I wrote Less Than Perfect in order to provide adult readers with a fresh and deeper understanding of some of the stories that undergird our faith. By retelling them in the light of what we now know about the historical, cultural context in which they unfolded, I hope to bring them to life for those who are ready to recharge their Bible reading.
I hope you'll join me in grappling with these wonderful stories. As you do, I also hope that surprising insights, fascinating connections, and startling patterns will begin to jump off the page, just as they did for me as I was writing the book.
Blessings,
Ann
[Read the Bible Gateway Blog post, How Eating the Wrong Thing Wrecked Everything]
---
Less Than Perfect is published by HarperCollins Christian Publishing, Inc., the parent company of Bible Gateway.
---
Bio: Ann Spangler is an award-winning writer and the author of many bestselling books, including Less Than Perfect, Praying the Names of God, Praying the Names of Jesus, and The One Year Devotions for Women. She's also coauthor of Women of the Bible and Sitting at the Feet of Rabbi Jesus, and the general editor of the Names of God Bible. Ann's fascination with and love of Scripture have resulted in books that have opened the Bible to a wide range of readers. She and her two daughters live in Grand Rapids, Michigan.
See what you're missing out on by not being a member of Bible Gateway Plus. Try it right now!