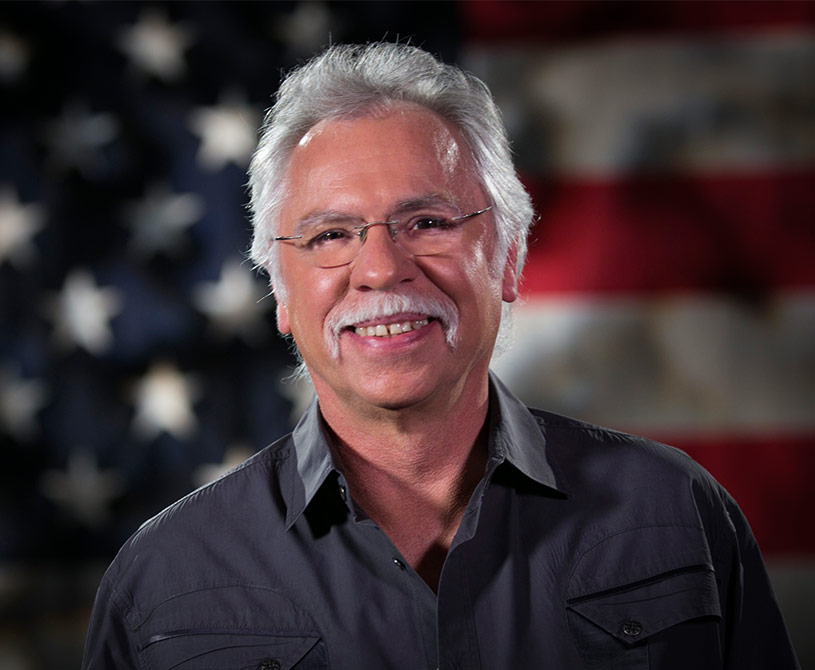 For more than 40 years, the legendary Oak Ridge Boys (41 million records sold) have been on the road entertaining sold-out audiences with their classic hit songs like Elvira, Bobbie Sue, Thank God for Kids, and many others. As their fans will testify, an Oak Ridge Boys concert is an unforgettable experience.
Bible Gateway interviewed Joe Bonsall (@joebonsall) about his book, On the Road with the Oak Ridge Boys: Forty Years of Untold Stories and Adventures (Harvest House Publishers, 2015).
For those who may not know, briefly explain who The Oak Ridge Boys are, their style of music, the scope of their popularity, and your part in it all.
Joe Bonsall: The Oak Ridge Boys are an American music group whose roots date back to World War II. The present members have been singing together for almost 42 years. With a start in southern gospel the Oaks have maintained a lengthy and award-winning career spanning decades of hit songs with 41 million albums sold. We were recently inducted into The Country Music Hall of Fame. Me? I'm just a spoke in the wheel.
How did you come to believe what the Bible says about Jesus?
Joe Bonsall: I was heavily influenced by Christian kids in my neighborhood in Philadelphia that never gave up on me. But mostly… it was my mother who taught me about Jesus and the Bible!
On your website, you say the Bible is your favorite book. Why?
Joe Bonsall: Because it is God's holy Word and a road map for my life. No other book can match that and besides… the stories are wonderful!
Do you have a favorite verse, passage, story, or book of the Bible? If so, why do you single that out from others?
Joe Bonsall: I have no absolute favorite verse. It is the cross and our risen savior that sticks out to me.
Do the other members of The Boys have Bible favorites and what are they?
Joe Bonsall: Everyone's faith is their own private matter. I do know, however, that all of my singing partners are Bible believing Christians.
Describe the difficulty of maintaining a strong Bible-based faith in the professional music world.
Joe Bonsall: I have never found it difficult to be a light for Christ. I don't think it's any more difficult then doing anything else with your life. There are always temptations and Satan is everywhere. The battle between doing what is right or slipping away is everyone's personal decision, no matter what their vocation.
Would you say that, of all popular music genres, country music is more accepting of the message of the Bible? If so, why do you think that is?
Joe Bonsall: I have no answer to this. I think that if people are brought up right and their decisions are made in a Christ-like fashion, then they shine their light. Many pop musicians started by singing in church and I think those memories and experiences affect your life no matter what your preferred genre of music may be.
What songs might there be that The Oak Ridge Boys sing that have as a foundation to their message a connection to biblical principles?
Joe Bonsall: We are always on the lookout for positive music. We are just not very good at not being positive. Big hits like Everyday, Dig In The Well, Touch A Hand, and so many more are positive in nature. But where the light really shines is when we sing gospel songs; for instance, we just recorded a hymns album—a very cool project called Rock Of Ages. It's fun to sing about "the old story" in four-part harmony.
What do you hope readers of this book will experience?
Joe Bonsall: I think this book is a fun and very insightful look into the world of an American music act that has endured over decades of song. I try to take readers into our world and make them a fly on the wall. This is how we do it; this is how we have done it. And along the way I do my best to be a strong witness for Jesus Christ and give him the constant praise and glory. If you're a fan of The Boys you'll love it. If you're a music student of some sort… this is a road map. If you need a laugh and a blessing here and there? It's all here in On the Road with the Oak Ridge Boys.
Bio: Joseph S. Bonsall is an avid writer, songwriter, and 40-plus year member of the legendary American music group The Oak Ridge Boys. His previous books include G.I. Joe & Lillie Remembering a Life of Love & Loyalty and several children's books. For relaxation, Joe retreats to his 350-acre farm on the Tennessee-Kentucky state line with his wife, Mary, and their seven cats. He also plays the banjo.