---
8 The wise are glad to be instructed,
but babbling fools fall flat on their faces.
9 People with integrity walk safely,
but those who follow crooked paths will be exposed.
10 People who wink at wrong cause trouble,
but a bold reproof promotes peace.[a]
11 The words of the godly are a life-giving fountain;
the words of the wicked conceal violent intentions.
12 Hatred stirs up quarrels,
but love makes up for all offenses.
13 Wise words come from the lips of people with understanding,
but those lacking sense will be beaten with a rod.
14 Wise people treasure knowledge,
but the babbling of a fool invites disaster.
15 The wealth of the rich is their fortress;
the poverty of the poor is their destruction.
16 The earnings of the godly enhance their lives,
but evil people squander their money on sin.
17 People who accept discipline are on the pathway to life,
but those who ignore correction will go astray.
Read full chapter
Footnotes
10:10 As in Greek version; Hebrew reads but babbling fools fall flat on their faces.
New Living Translation (NLT)
Holy Bible, New Living Translation, copyright © 1996, 2004, 2015 by Tyndale House Foundation. Used by permission of Tyndale House Publishers, Inc., Carol Stream, Illinois 60188. All rights reserved.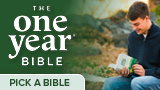 Bible Gateway Recommends
NLT One Step Closer Bible, Imitation Leather
Retail: $64.99
Our Price: $47.99
Save: $17.00 (26%)
NLT Life Application Large-Print Study Bible, Third Edition--soft leather-look, teal
Retail: $84.99
Our Price: $62.99
Save: $22.00 (26%)
NLT Life Application Large-Print Study Bible, Third Edition--hardcover, red letter
Retail: $64.99
Our Price: $47.99
Save: $17.00 (26%)

NLT Giant-Print Personal-Size Bible, Filament Enabled Edition--genuine leather, brown
Retail: $69.99
Our Price: $51.99
Save: $18.00 (26%)
NLT Abundant Life Bible
Retail: $9.99
Our Price: $8.49
Save: $1.50 (15%)

NLT Life Application Large-Print Study Bible, Third Edition--soft leather-look, brown, tan, red letter (indexed)
Retail: $94.99
Our Price: $69.99
Save: $25.00 (26%)