---
Jesus Heals a Man with Leprosy
40 A man with leprosy came and knelt in front of Jesus, begging to be healed. "If you are willing, you can heal me and make me clean," he said.
41 Moved with compassion,[a] Jesus reached out and touched him. "I am willing," he said. "Be healed!" 42 Instantly the leprosy disappeared, and the man was healed. 43 Then Jesus sent him on his way with a stern warning: 44 "Don't tell anyone about this. Instead, go to the priest and let him examine you. Take along the offering required in the law of Moses for those who have been healed of leprosy.[b] This will be a public testimony that you have been cleansed."
45 But the man went and spread the word, proclaiming to everyone what had happened. As a result, large crowds soon surrounded Jesus, and he couldn't publicly enter a town anywhere. He had to stay out in the secluded places, but people from everywhere kept coming to him.
Read full chapter
New Living Translation (NLT)
Holy Bible, New Living Translation, copyright © 1996, 2004, 2015 by Tyndale House Foundation. Used by permission of Tyndale House Publishers, Inc., Carol Stream, Illinois 60188. All rights reserved.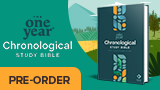 Bible Gateway Recommends
NLT Premium Value Thinline Bible, Filament Enabled Edition-- soft leather-look, brown
Retail: $17.99
Our Price: $12.49
Save: $5.50 (31%)
NLT Teen Life Application Study Bible, Hardcover
Retail: $27.99
Our Price: $21.49
Save: $6.50 (23%)

Contemporary Comparative Side-by-Side Bible: NIV/NKJV/NLT/The Message, Bonded leather, burgundy
Retail: $99.99
Our Price: $60.99
Save: $39.00 (39%)
NLT Giant-Print Personal-Size Bible, Filament Enabled Edition--soft leather-look, rustic brown
Retail: $39.99
Our Price: $20.99
Save: $19.00 (48%)
NLT Teen Life Application Study Bible, Softcover
Retail: $22.99
Our Price: $18.99
Save: $4.00 (17%)

NLT Compact Giant Print Bible, Filament Enabled Edition (Red Letter, LeatherLike, Peony Rich Teal)
Retail: $34.99
Our Price: $20.99
Save: $14.00 (40%)