---
The Last Supper
7 Now the Festival of Unleavened Bread arrived, when the Passover lamb is sacrificed. 8 Jesus sent Peter and John ahead and said, "Go and prepare the Passover meal, so we can eat it together."
9 "Where do you want us to prepare it?" they asked him.
10 He replied, "As soon as you enter Jerusalem, a man carrying a pitcher of water will meet you. Follow him. At the house he enters, 11 say to the owner, 'The Teacher asks: Where is the guest room where I can eat the Passover meal with my disciples?' 12 He will take you upstairs to a large room that is already set up. That is where you should prepare our meal." 13 They went off to the city and found everything just as Jesus had said, and they prepared the Passover meal there.
14 When the time came, Jesus and the apostles sat down together at the table.[a]
Read full chapter
Footnotes
22:14 Or reclined together.
New Living Translation (NLT)
Holy Bible, New Living Translation, copyright © 1996, 2004, 2015 by Tyndale House Foundation. Used by permission of Tyndale House Publishers, Inc., Carol Stream, Illinois 60188. All rights reserved.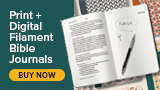 Bible Gateway Recommends
NLT Premium Gift Bible--soft leather-look, blue
Retail: $15.99
Our Price: $11.99
Save: $4.00 (25%)

NLT Hands-On Bible for Boys, Updated Edition
Retail: $39.99
Our Price: $32.99
Save: $7.00 (18%)
NLT Premium Value Thinline Bible, Filament Enabled Edition-- soft leather-look, brown
Retail: $17.99
Our Price: $14.49
Save: $3.50 (19%)
NLT Compact Giant Print Bible, Filament Enabled Edition (Red Letter, LeatherLike, Rose Metallic Peony)
Retail: $34.99
Our Price: $23.99
Save: $11.00 (31%)

NLT Children's Outreach Bible, Softcover
Retail: $3.99
Our Price: $2.79
Save: $1.20 (30%)

NLT Large-Print Premium Value Thinline Bible, Filament Enabled Edition--soft leather-look, pink
Retail: $22.99
Our Price: $18.99
Save: $4.00 (17%)