---
17 Peace has been stripped away,
and I have forgotten what prosperity is.
18 I cry out, "My splendor is gone!
Everything I had hoped for from the Lord is lost!"
19 The thought of my suffering and homelessness
is bitter beyond words.[a]
20 I will never forget this awful time,
as I grieve over my loss.
21 Yet I still dare to hope
when I remember this:
22 The faithful love of the Lord never ends![b]
His mercies never cease.
23 Great is his faithfulness;
his mercies begin afresh each morning.
24 I say to myself, "The Lord is my inheritance;
therefore, I will hope in him!"
25 The Lord is good to those who depend on him,
to those who search for him.
26 So it is good to wait quietly
for salvation from the Lord.
27 And it is good for people to submit at an early age
to the yoke of his discipline:
28 Let them sit alone in silence
beneath the Lord's demands.
29 Let them lie face down in the dust,
for there may be hope at last.
30 Let them turn the other cheek to those who strike them
and accept the insults of their enemies.
31 For no one is abandoned
by the Lord forever.
32 Though he brings grief, he also shows compassion
because of the greatness of his unfailing love.
33 For he does not enjoy hurting people
or causing them sorrow.
34 If people crush underfoot
all the prisoners of the land,
35 if they deprive others of their rights
in defiance of the Most High,
36 if they twist justice in the courts—
doesn't the Lord see all these things?
37 Who can command things to happen
without the Lord's permission?
38 Does not the Most High
send both calamity and good?
39 Then why should we, mere humans, complain
when we are punished for our sins?
40 Instead, let us test and examine our ways.
Let us turn back to the Lord.
41 Let us lift our hearts and hands
to God in heaven and say,
42 "We have sinned and rebelled,
and you have not forgiven us.
Read full chapter
New Living Translation (NLT)
Holy Bible, New Living Translation, copyright © 1996, 2004, 2015 by Tyndale House Foundation. Used by permission of Tyndale House Publishers, Inc., Carol Stream, Illinois 60188. All rights reserved.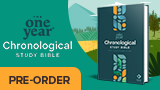 Bible Gateway Recommends
NLT Chronological Life Application Study Bible, Hardcover
Retail: $59.99
Our Price: $47.99
Save: $12.00 (20%)
NLT Premium Gift Bible Imitation Leather, purple petals
Retail: $15.99
Our Price: $11.99
Save: $4.00 (25%)
NLT Large-Print Life Application Study Bible, Third Edition--genuine leather, brown (indexed)
Retail: $129.99
Our Price: $81.99
Save: $48.00 (37%)
Contemporary Comparative Parallel Bible (NIV, NKJV, NLT, The Message)
Retail: $59.99
Our Price: $39.99
Save: $20.00 (33%)
NLT Compact Giant Print Bible, Filament Enabled Edition (Red Letter, LeatherLike, Peony Rich Teal)
Retail: $34.99
Our Price: $20.99
Save: $14.00 (40%)
NLT Compact Giant Print Bible, Filament Enabled Edition (Red Letter, LeatherLike, Navy Blue Cross)
Retail: $34.99
Our Price: $20.99
Save: $14.00 (40%)