---
Amplified Bible, Classic Edition
5 And they shall be like mighty men treading down their enemies in the mire of the streets in the battle, and they shall fight because the Lord is with them, and the [oppressor's] riders on horses shall be confounded and put to shame.
6 And I will strengthen the house of Judah and I will save the house of Joseph [Ephraim]. I will bring them back and cause them to dwell securely, for I have mercy, loving-kindness, and compassion for them. They shall be as though I had not cast them off, for I am the Lord their God, and I will hear them.
7 Then Ephraim [the ten tribes] shall become like a mighty warrior, and their hearts shall rejoice as through wine; yes, their children shall see it and rejoice; their hearts shall feel great delight and glory triumphantly in the Lord!
Read full chapter
Amplified Bible, Classic Edition (AMPC)
Copyright © 1954, 1958, 1962, 1964, 1965, 1987 by The Lockman Foundation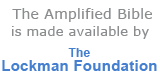 Bible Gateway Recommends
KJV and Amplified Parallel Bible, Large Print, Hardcover
Retail: $49.99
Our Price: $27.49
Save: $22.50 (45%)
The Everyday Life Bible, Bonded Leather Bold Pink with Espresso Inset
Retail: $65.00
Our Price: $44.99
Save: $20.01 (31%)

Classic Comparative Side-by-Side Bible (NIV, KJV, NASB, Amplified)
Retail: $54.99
Our Price: $32.99
Save: $22.00 (40%)
KJV and Amplified Parallel Bible, Large Print, Leathersoft, Camel/rich red
Retail: $79.99
Our Price: $43.49
Save: $36.50 (46%)

Battlefield of the Mind Bible, Amplified Version - Hardcover
Retail: $49.99
Our Price: $27.99
Save: $22.00 (44%)
New Everyday Life Bible: The Power Of God's Word For Everyday Living - Slightly Imperfect
Retail: $29.99
Our Price: $13.99
Save: $16.00 (53%)