---
23 For all have sinned, and come short of the glory of God;
24 Being justified freely by his grace through the redemption that is in Christ Jesus:
25 Whom God hath set forth to be a propitiation through faith in his blood, to declare his righteousness for the remission of sins that are past, through the forbearance of God;
Read full chapter
23 For everyone has sinned; we all fall short of God's glorious standard. 24 Yet God, in his grace, freely makes us right in his sight. He did this through Christ Jesus when he freed us from the penalty for our sins. 25 For God presented Jesus as the sacrifice for sin. People are made right with God when they believe that Jesus sacrificed his life, shedding his blood. This sacrifice shows that God was being fair when he held back and did not punish those who sinned in times past,
Read full chapter
23 since all have sinned and continually fall short of the glory of God, 24 and are being justified [declared free of the guilt of sin, made acceptable to God, and granted eternal life] as a gift by His [precious, undeserved] [a]grace, through the redemption [the payment for our sin] which is [provided] in Christ Jesus, 25 whom God displayed publicly [before the eyes of the world] as a [life-giving] [b]sacrifice of atonement and reconciliation (propitiation) by His blood [to be received] through faith. This was to demonstrate His righteousness [which demands punishment for sin], because in His forbearance [His deliberate restraint] He passed over the sins previously committed [before Jesus' crucifixion].
Read full chapter
Footnotes
Romans 3:24 I.e. His favor and mercy, extended to man who can do nothing to be worthy of it. It is God's amazing gift.
Romans 3:25 By laying his hands on the head of the sacrifice the person offering the sacrifice identified himself with it and through its death it became an atonement or covering for his sin. Because the unblemished sacrifice "covered" his sin it placed the person offering the sacrifice in a right relationship with God. Later under the new covenant the perfection and sacrifice of Christ would cover (atone for) the imperfection and sin of those who identified with Him and accepted Him as Savior.
New Living Translation (NLT)
Holy Bible, New Living Translation, copyright © 1996, 2004, 2015 by Tyndale House Foundation. Used by permission of Tyndale House Publishers, Inc., Carol Stream, Illinois 60188. All rights reserved.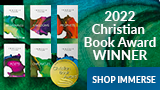 Amplified Bible (AMP)
Copyright © 2015 by The Lockman Foundation, La Habra, CA 90631. All rights reserved.