---
20 You think you can instruct the ignorant and teach children the ways of God. For you are certain that God's law gives you complete knowledge and truth.
Read full chapter
5 They will act religious, but they will reject the power that could make them godly. Stay away from people like that!
Read full chapter
16 Such people claim they know God, but they deny him by the way they live. They are detestable and disobedient, worthless for doing anything good.
Read full chapter
13 Hold on to the pattern of wholesome teaching you learned from me—a pattern shaped by the faith and love that you have in Christ Jesus.
Read full chapter
Paul and Apollos, Servants of Christ
3 Dear brothers and sisters,[a] when I was with you I couldn't talk to you as I would to spiritual people.[b] I had to talk as though you belonged to this world or as though you were infants in Christ.
Read full chapter
17 Thank God! Once you were slaves of sin, but now you wholeheartedly obey this teaching we have given you.
Read full chapter
2 Like newborn babies, you must crave pure spiritual milk so that you will grow into a full experience of salvation. Cry out for this nourishment,
Read full chapter
13 For someone who lives on milk is still an infant and doesn't know how to do what is right.
Read full chapter
Jesus' Prayer of Thanksgiving
25 At that time Jesus prayed this prayer: "O Father, Lord of heaven and earth, thank you for hiding these things from those who think themselves wise and clever, and for revealing them to the childlike.
Read full chapter
New Living Translation (NLT)
Holy Bible, New Living Translation, copyright © 1996, 2004, 2015 by Tyndale House Foundation. Used by permission of Tyndale House Publishers, Inc., Carol Stream, Illinois 60188. All rights reserved.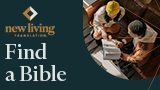 Bible Gateway Recommends
My First Hands-on Bible--soft leather-look, bold blue
Retail: $19.99
Our Price: $15.99
Save: $4.00 (20%)

NLT Giant-Print Personal-Size Bible, Filament Enabled Edition--soft leather-look, rustic brown
Retail: $29.99
Our Price: $21.99
Save: $8.00 (27%)

Contemporary Comparative Side-by-Side Bible (NIV, NKJV, NLT, THE Message)
Retail: $59.99
Our Price: $38.99
Save: $21.00 (35%)

NLT Large-Print Premium Value Thinline Bible, Filament Enabled Edition--soft leather-look, brown
Retail: $19.99
Our Price: $15.99
Save: $4.00 (20%)
NLT Life Application Large-Print Study Bible, Third Edition--hardcover, red letter
Retail: $64.99
Our Price: $42.99
Save: $22.00 (34%)

The NLT One Year Chronological Bible - softcover
Retail: $19.99
Our Price: $15.99
Save: $4.00 (20%)