---
7 Behold, he cometh with (A)clouds, and every [a]eye shall see him: yea, even they which pierced him through: and all kindreds of the earth shall wail before him, Even so, Amen.
8 [b]I (B)am [c]Alpha and Omega, the beginning and the ending, saith the Lord, Which is, and Which was, and Which is to come, even the Almighty.
9 [d]I John even your brother and companion in tribulation, and in the kingdom and patience of Jesus Christ, was in the [e]Isle called Patmos, for the word of God, and for the witnessing of Jesus Christ.
Read full chapter
New International Version
7 "Look, he is coming with the clouds,"[a](A)
and "every eye will see him,
even those who pierced him";(B)
and all peoples on earth "will mourn(C) because of him."[b]
So shall it be! Amen.
8 "I am the Alpha and the Omega,"(D) says the Lord God, "who is, and who was, and who is to come,(E) the Almighty."(F)
John's Vision of Christ
9 I, John,(G) your brother and companion in the suffering(H) and kingdom(I) and patient endurance(J) that are ours in Jesus, was on the island of Patmos because of the word of God(K) and the testimony of Jesus.(L)
Read full chapter
1599 Geneva Bible (GNV)
Geneva Bible, 1599 Edition. Published by Tolle Lege Press. All rights reserved. No part of this publication may be reproduced or transmitted in any form or by any means, electronic or mechanical, without written permission from the publisher, except in the case of brief quotations in articles, reviews, and broadcasts.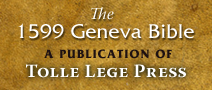 New International Version (NIV)
Holy Bible, New International Version®, NIV® Copyright ©1973, 1978, 1984, 2011 by Biblica, Inc.® Used by permission. All rights reserved worldwide.
NIV Reverse Interlinear Bible: English to Hebrew and English to Greek. Copyright © 2019 by Zondervan.