---
Psalm 109
For the choir director: A psalm of David.
1 O God, whom I praise,
don't stand silent and aloof
2 while the wicked slander me
and tell lies about me.
3 They surround me with hateful words
and fight against me for no reason.
4 I love them, but they try to destroy me with accusations
even as I am praying for them!
5 They repay evil for good,
and hatred for my love.
6 They say,[a] "Get an evil person to turn against him.
Send an accuser to bring him to trial.
7 When his case comes up for judgment,
let him be pronounced guilty.
Count his prayers as sins.
8 Let his years be few;
let someone else take his position.
9 May his children become fatherless,
and his wife a widow.
10 May his children wander as beggars
and be driven from[b] their ruined homes.
11 May creditors seize his entire estate,
and strangers take all he has earned.
12 Let no one be kind to him;
let no one pity his fatherless children.
13 May all his offspring die.
May his family name be blotted out in the next generation.
14 May the Lord never forget the sins of his fathers;
may his mother's sins never be erased from the record.
15 May the Lord always remember these sins,
and may his name disappear from human memory.
16 For he refused all kindness to others;
he persecuted the poor and needy,
and he hounded the brokenhearted to death.
17 He loved to curse others;
now you curse him.
He never blessed others;
now don't you bless him.
18 Cursing is as natural to him as his clothing,
or the water he drinks,
or the rich food he eats.
19 Now may his curses return and cling to him like clothing;
may they be tied around him like a belt."
20 May those curses become the Lord's punishment
for my accusers who speak evil of me.
21 But deal well with me, O Sovereign Lord,
for the sake of your own reputation!
Rescue me
because you are so faithful and good.
22 For I am poor and needy,
and my heart is full of pain.
23 I am fading like a shadow at dusk;
I am brushed off like a locust.
24 My knees are weak from fasting,
and I am skin and bones.
25 I am a joke to people everywhere;
when they see me, they shake their heads in scorn.
26 Help me, O Lord my God!
Save me because of your unfailing love.
27 Let them see that this is your doing,
that you yourself have done it, Lord.
28 Then let them curse me if they like,
but you will bless me!
When they attack me, they will be disgraced!
But I, your servant, will go right on rejoicing!
29 May my accusers be clothed with disgrace;
may their humiliation cover them like a cloak.
30 But I will give repeated thanks to the Lord,
praising him to everyone.
31 For he stands beside the needy,
ready to save them from those who condemn them.
The Lamb and the 144,000
14 Then I saw the Lamb standing on Mount Zion, and with him were 144,000 who had his name and his Father's name written on their foreheads. 2 And I heard a sound from heaven like the roar of mighty ocean waves or the rolling of loud thunder. It was like the sound of many harpists playing together.
3 This great choir sang a wonderful new song in front of the throne of God and before the four living beings and the twenty-four elders. No one could learn this song except the 144,000 who had been redeemed from the earth. 4 They have kept themselves as pure as virgins,[a] following the Lamb wherever he goes. They have been purchased from among the people on the earth as a special offering[b] to God and to the Lamb. 5 They have told no lies; they are without blame.
The Three Angels
6 And I saw another angel flying through the sky, carrying the eternal Good News to proclaim to the people who belong to this world—to every nation, tribe, language, and people. 7 "Fear God," he shouted. "Give glory to him. For the time has come when he will sit as judge. Worship him who made the heavens, the earth, the sea, and all the springs of water."
8 Then another angel followed him through the sky, shouting, "Babylon is fallen—that great city is fallen—because she made all the nations of the world drink the wine of her passionate immorality."
9 Then a third angel followed them, shouting, "Anyone who worships the beast and his statue or who accepts his mark on the forehead or on the hand 10 must drink the wine of God's anger. It has been poured full strength into God's cup of wrath. And they will be tormented with fire and burning sulfur in the presence of the holy angels and the Lamb. 11 The smoke of their torment will rise forever and ever, and they will have no relief day or night, for they have worshiped the beast and his statue and have accepted the mark of his name."
12 This means that God's holy people must endure persecution patiently, obeying his commands and maintaining their faith in Jesus.
13 And I heard a voice from heaven saying, "Write this down: Blessed are those who die in the Lord from now on. Yes, says the Spirit, they are blessed indeed, for they will rest from their hard work; for their good deeds follow them!"
The Harvest of the Earth
14 Then I saw a white cloud, and seated on the cloud was someone like the Son of Man.[c] He had a gold crown on his head and a sharp sickle in his hand.
15 Then another angel came from the Temple and shouted to the one sitting on the cloud, "Swing the sickle, for the time of harvest has come; the crop on earth is ripe." 16 So the one sitting on the cloud swung his sickle over the earth, and the whole earth was harvested.
17 After that, another angel came from the Temple in heaven, and he also had a sharp sickle. 18 Then another angel, who had power to destroy with fire, came from the altar. He shouted to the angel with the sharp sickle, "Swing your sickle now to gather the clusters of grapes from the vines of the earth, for they are ripe for judgment." 19 So the angel swung his sickle over the earth and loaded the grapes into the great winepress of God's wrath. 20 The grapes were trampled in the winepress outside the city, and blood flowed from the winepress in a stream about 180 miles[d] long and as high as a horse's bridle.
New Living Translation (NLT)
Holy Bible, New Living Translation, copyright © 1996, 2004, 2015 by Tyndale House Foundation. Used by permission of Tyndale House Publishers, Inc., Carol Stream, Illinois 60188. All rights reserved.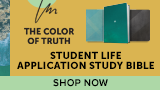 Bible Gateway Recommends
NLT Premium Gift Bible--soft leather-look, blue
Retail: $15.99
Our Price: $11.99
Save: $4.00 (25%)

NLT Life Application Study Bible, Third Edition--soft leather-look, brown/tan (indexed) (red letter)
Retail: $84.99
Our Price: $57.49
Save: $27.50 (32%)

NLT Inspire FAITH Bible, Filament Enabled Edition, LeatherLike, Pink Watercolor Garden
Retail: $74.99
Our Price: $48.49
Save: $26.50 (35%)
NLT Life Application Large-Print Study Bible, Third Edition--hardcover, red letter
Retail: $64.99
Our Price: $42.99
Save: $22.00 (34%)
NLT Abundant Life Bible
Retail: $9.99
Our Price: $8.49
Save: $1.50 (15%)
NLT Compact Giant Print Bible, Filament Enabled Edition (Red Letter, LeatherLike, Rose Metallic Peony)
Retail: $34.99
Our Price: $27.99
Save: $7.00 (20%)