---
Amplified Bible, Classic Edition
12 Blessed (happy, fortunate, to be envied) is the man whom You discipline and instruct, O Lord, and teach out of Your law,
13 That You may give him power to keep himself calm in the days of adversity, until the [inevitable] pit of corruption is dug for the wicked.
14 For the Lord will not cast off nor spurn His people, neither will He abandon His heritage.
Read full chapter
New International Version
Amplified Bible, Classic Edition (AMPC)
Copyright © 1954, 1958, 1962, 1964, 1965, 1987 by The Lockman Foundation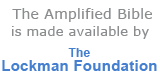 New International Version (NIV)
Copyright © 1973, 1978, 1984, 2011 by Biblica
NIV Reverse Interlinear Bible: English to Hebrew and English to Greek. Copyright © 2019 by Zondervan.