---
8 
When You said, "Seek My face [in prayer, require My presence as your greatest need]," my heart said to You,
"Your face, O Lord, I will seek [on the authority of Your word]."
9 
Do not hide Your face from me,
Do not turn Your servant away in anger;
You have been my help;
Do not abandon me nor [a]leave me,
O God of my salvation!
10 
Although my father and my mother have abandoned me,
Yet the Lord will take me up [adopt me as His child].(A)
Read full chapter
New International Version
8 My heart says of you, "Seek his face!(A)"
Your face, Lord, I will seek.
9 Do not hide your face(B) from me,
do not turn your servant away in anger;(C)
you have been my helper.(D)
Do not reject me or forsake(E) me,
God my Savior.(F)
10 Though my father and mother forsake me,
the Lord will receive me.
Read full chapter
Amplified Bible (AMP)
Copyright © 2015 by The Lockman Foundation, La Habra, CA 90631. All rights reserved.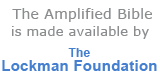 New International Version (NIV)
Holy Bible, New International Version®, NIV® Copyright ©1973, 1978, 1984, 2011 by Biblica, Inc.® Used by permission. All rights reserved worldwide.
NIV Reverse Interlinear Bible: English to Hebrew and English to Greek. Copyright © 2019 by Zondervan.