---
17 Interfering in someone else's argument
is as foolish as yanking a dog's ears.
18 Just as damaging
as a madman shooting a deadly weapon
19 is someone who lies to a friend
and then says, "I was only joking."
20 Fire goes out without wood,
and quarrels disappear when gossip stops.
21 A quarrelsome person starts fights
as easily as hot embers light charcoal or fire lights wood.
22 Rumors are dainty morsels
that sink deep into one's heart.
23 Smooth[a] words may hide a wicked heart,
just as a pretty glaze covers a clay pot.
24 People may cover their hatred with pleasant words,
but they're deceiving you.
25 They pretend to be kind, but don't believe them.
Their hearts are full of many evils.[b]
26 While their hatred may be concealed by trickery,
their wrongdoing will be exposed in public.
27 If you set a trap for others,
you will get caught in it yourself.
If you roll a boulder down on others,
it will crush you instead.
28 A lying tongue hates its victims,
and flattering words cause ruin.
Read full chapter
New International Version
17 Like one who grabs a stray dog by the ears
is someone who rushes into a quarrel not their own.
18 Like a maniac shooting
flaming arrows of death
19 is one who deceives their neighbor
and says, "I was only joking!"
20 Without wood a fire goes out;
without a gossip a quarrel dies down.(A)
21 As charcoal to embers and as wood to fire,
so is a quarrelsome person for kindling strife.(B)
22 The words of a gossip are like choice morsels;
they go down to the inmost parts.(C)
23 Like a coating of silver dross on earthenware
are fervent[a] lips with an evil heart.
24 Enemies disguise themselves with their lips,(D)
but in their hearts they harbor deceit.(E)
25 Though their speech is charming,(F) do not believe them,
for seven abominations fill their hearts.(G)
26 Their malice may be concealed by deception,
but their wickedness will be exposed in the assembly.
27 Whoever digs a pit(H) will fall into it;(I)
if someone rolls a stone, it will roll back on them.(J)
28 A lying tongue hates those it hurts,
and a flattering mouth(K) works ruin.
Read full chapter
17 He that passeth by, and meddleth with strife belonging not to him, is like one that taketh a dog by the ears.
18 As a mad man who casteth firebrands, arrows, and death,
19 So is the man that deceiveth his neighbour, and saith, Am not I in sport?
20 Where no wood is, there the fire goeth out: so where there is no talebearer, the strife ceaseth.
21 As coals are to burning coals, and wood to fire; so is a contentious man to kindle strife.
22 The words of a talebearer are as wounds, and they go down into the innermost parts of the belly.
23 Burning lips and a wicked heart are like a potsherd covered with silver dross.
24 He that hateth dissembleth with his lips, and layeth up deceit within him;
25 When he speaketh fair, believe him not: for there are seven abominations in his heart.
26 Whose hatred is covered by deceit, his wickedness shall be shewed before the whole congregation.
27 Whoso diggeth a pit shall fall therein: and he that rolleth a stone, it will return upon him.
28 A lying tongue hateth those that are afflicted by it; and a flattering mouth worketh ruin.
Read full chapter
New Living Translation (NLT)
Holy Bible, New Living Translation, copyright © 1996, 2004, 2015 by Tyndale House Foundation. Used by permission of Tyndale House Publishers, Inc., Carol Stream, Illinois 60188. All rights reserved.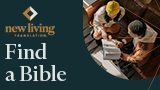 New International Version (NIV)
Holy Bible, New International Version®, NIV® Copyright ©1973, 1978, 1984, 2011 by Biblica, Inc.® Used by permission. All rights reserved worldwide.
NIV Reverse Interlinear Bible: English to Hebrew and English to Greek. Copyright © 2019 by Zondervan.