---
9 If you want people to like you, forgive them when they wrong you. Remembering wrongs can break up a friendship.
10 An intelligent person learns more from one rebuke than a fool learns from being beaten a hundred times.
11 Death will come like a cruel messenger to wicked people who are always stirring up trouble.
Read full chapter
New International Version
9 Whoever would foster love covers over an offense,(A)
but whoever repeats the matter separates close friends.(B)
10 A rebuke impresses a discerning person
more than a hundred lashes a fool.
11 Evildoers foster rebellion against God;
the messenger of death will be sent against them.
Read full chapter
Good News Translation (GNT)
Copyright © 1992 by American Bible Society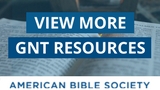 New International Version (NIV)
Holy Bible, New International Version®, NIV® Copyright ©1973, 1978, 1984, 2011 by Biblica, Inc.® Used by permission. All rights reserved worldwide.
NIV Reverse Interlinear Bible: English to Hebrew and English to Greek. Copyright © 2019 by Zondervan.