---
5 and the Lord came down in a pillar of cloud, stood at the entrance of the Tent, and called out, "Aaron! Miriam!" The two of them stepped forward, 6 and the Lord said, "Now hear what I have to say! When there are prophets among you,[a] I reveal myself to them in visions and speak to them in dreams. 7 (A)It is different when I speak with my servant Moses; I have put him in charge of all my people Israel.[b]
Read full chapter
Footnotes
Numbers 12:6 Some ancient translations When … you; Hebrew unclear.
Numbers 12:7 I have put … Israel; or he can be trusted with all my affairs.
New International Version
5 Then the Lord came down in a pillar of cloud;(A) he stood at the entrance to the tent and summoned Aaron and Miriam. When the two of them stepped forward, 6 he said, "Listen to my words:
"When there is a prophet among you,
I, the Lord, reveal(B) myself to them in visions,(C)
I speak to them in dreams.(D)
7 But this is not true of my servant Moses;(E)
he is faithful in all my house.(F)
Read full chapter
Good News Translation (GNT)
Copyright © 1992 by American Bible Society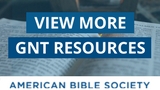 New International Version (NIV)
Holy Bible, New International Version®, NIV® Copyright ©1973, 1978, 1984, 2011 by Biblica, Inc.® Used by permission. All rights reserved worldwide.
NIV Reverse Interlinear Bible: English to Hebrew and English to Greek. Copyright © 2019 by Zondervan.