---
Amplified Bible, Classic Edition
8 He has showed you, O man, what is good. And what does the Lord require of you but to do justly, and to love kindness and mercy, and to humble yourself and walk humbly with your God?(A)
9 The voice of the Lord calls to the city [Jerusalem]—and it is sound wisdom to hear and fear Your name—Hear (heed) the rod and Him Who has appointed it.
10 Are there not still treasures gained by wickedness in the house of the wicked, and a scant measure [a false measure for grain] that is abominable and accursed?
Read full chapter
New International Version
8 He has shown you, O mortal, what is good.
And what does the Lord require of you?
To act justly(A) and to love mercy
and to walk humbly[a](B) with your God.(C)
Israel's Guilt and Punishment
9 Listen! The Lord is calling to the city—
and to fear your name is wisdom—
"Heed the rod(D) and the One who appointed it.[b]
10 Am I still to forget your ill-gotten treasures, you wicked house,
and the short ephah,[c] which is accursed?(E)
Read full chapter
Amplified Bible, Classic Edition (AMPC)
Copyright © 1954, 1958, 1962, 1964, 1965, 1987 by The Lockman Foundation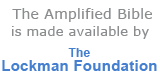 New International Version (NIV)
Holy Bible, New International Version®, NIV® Copyright ©1973, 1978, 1984, 2011 by Biblica, Inc.® Used by permission. All rights reserved worldwide.
NIV Reverse Interlinear Bible: English to Hebrew and English to Greek. Copyright © 2019 by Zondervan.