---
The Faith of a Roman Officer
5 When Jesus returned to Capernaum, a Roman officer[a] came and pleaded with him, 6 "Lord, my young servant[b] lies in bed, paralyzed and in terrible pain."
7 Jesus said, "I will come and heal him."
8 But the officer said, "Lord, I am not worthy to have you come into my home. Just say the word from where you are, and my servant will be healed. 9 I know this because I am under the authority of my superior officers, and I have authority over my soldiers. I only need to say, 'Go,' and they go, or 'Come,' and they come. And if I say to my slaves, 'Do this,' they do it."
10 When Jesus heard this, he was amazed. Turning to those who were following him, he said, "I tell you the truth, I haven't seen faith like this in all Israel! 11 And I tell you this, that many Gentiles will come from all over the world—from east and west—and sit down with Abraham, Isaac, and Jacob at the feast in the Kingdom of Heaven. 12 But many Israelites—those for whom the Kingdom was prepared—will be thrown into outer darkness, where there will be weeping and gnashing of teeth."
13 Then Jesus said to the Roman officer, "Go back home. Because you believed, it has happened." And the young servant was healed that same hour.
Read full chapter
New Living Translation (NLT)
Holy Bible, New Living Translation, copyright © 1996, 2004, 2015 by Tyndale House Foundation. Used by permission of Tyndale House Publishers, Inc., Carol Stream, Illinois 60188. All rights reserved.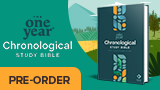 Bible Gateway Recommends
NLT Life Application Large-Print Study Bible, Third Edition--hardcover, red letter
Retail: $64.99
Our Price: $41.49
Save: $23.50 (36%)
NLT Boys Life Application Study Bible, LeatherLike, Midnight/Blue
Retail: $49.99
Our Price: $39.99
Save: $10.00 (20%)
NLT Life Application Large-Print Study Bible, Third Edition--hardcover, red letter (indexed)
Retail: $74.99
Our Price: $52.99
Save: $22.00 (29%)
NLT Life Recovery Bible, Personal Size
Retail: $22.99
Our Price: $16.99
Save: $6.00 (26%)
NLT Large-Print Premium Value Thinline Bible, Filament Enabled Edition--soft leather-look, teal
Retail: $22.99
Our Price: $15.99
Save: $7.00 (30%)
NLT The Life Recovery Bible, Softcover
Retail: $27.99
Our Price: $21.49
Save: $6.50 (23%)