---
Building on a Solid Foundation
24 "Anyone who listens to my teaching and follows it is wise, like a person who builds a house on solid rock. 25 Though the rain comes in torrents and the floodwaters rise and the winds beat against that house, it won't collapse because it is built on bedrock. 26 But anyone who hears my teaching and doesn't obey it is foolish, like a person who builds a house on sand. 27 When the rains and floods come and the winds beat against that house, it will collapse with a mighty crash."
28 When Jesus had finished saying these things, the crowds were amazed at his teaching, 29 for he taught with real authority—quite unlike their teachers of religious law.
Read full chapter
New Living Translation (NLT)
Holy Bible, New Living Translation, copyright © 1996, 2004, 2015 by Tyndale House Foundation. Used by permission of Tyndale House Publishers, Inc., Carol Stream, Illinois 60188. All rights reserved.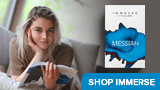 Bible Gateway Recommends
My First Hands-on Bible--soft leather-look, pretty pink
Retail: $19.99
Our Price: $11.99
Save: $8.00 (40%)

NLT Girls Life Application Study Bible--soft leather-look, teal/pink with flowers
Retail: $44.99
Our Price: $28.49
Save: $16.50 (37%)
NLT Life Application Large-Print Study Bible, Third Edition--hardcover, red letter
Retail: $64.99
Our Price: $38.49
Save: $26.50 (41%)

NLT Outreach Bible
Retail: $3.99
Our Price: $2.25
Save: $1.74 (44%)
NLT Life Application Large-Print Study Bible, Third Edition--soft leather-look, teal (indexed)
Retail: $94.99
Our Price: $56.99
Save: $38.00 (40%)

NLT Premium Value Slimline Bible, Large Print, Cross, Imitation Leather, Sienna with Cross Design
Retail: $19.99
Our Price: $12.99
Save: $7.00 (35%)