---
3 He told many stories in the form of parables, such as this one:
"Listen! A farmer went out to plant some seeds. 4 As he scattered them across his field, some seeds fell on a footpath, and the birds came and ate them. 5 Other seeds fell on shallow soil with underlying rock. The seeds sprouted quickly because the soil was shallow. 6 But the plants soon wilted under the hot sun, and since they didn't have deep roots, they died. 7 Other seeds fell among thorns that grew up and choked out the tender plants. 8 Still other seeds fell on fertile soil, and they produced a crop that was thirty, sixty, and even a hundred times as much as had been planted! 9 Anyone with ears to hear should listen and understand."
Read full chapter
New Living Translation (NLT)
Holy Bible, New Living Translation, copyright © 1996, 2004, 2015 by Tyndale House Foundation. Used by permission of Tyndale House Publishers, Inc., Carol Stream, Illinois 60188. All rights reserved.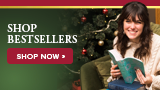 Bible Gateway Recommends
NLT Life Application Study Bible, Third Edition--hardcover, red letter
Retail: $49.99
Our Price: $36.99
Save: $13.00 (26%)

NLT Outreach Bible, Case of 18
Retail: $89.82
Our Price: $50.22
Save: $39.60 (44%)
The NLT Spiritual Growth Bible Pink Faux Leather
Retail: $49.99
Our Price: $36.99
Save: $13.00 (26%)

NLT Large-Print Premium Value Thinline Bible, Filament Enabled Edition--soft leather-look, brown
Retail: $22.99
Our Price: $18.99
Save: $4.00 (17%)

NLT Life Application Large-Print Study Bible, Third Edition--soft leather-look, brown, mahogan, red letter (indexed)
Retail: $94.99
Our Price: $61.49
Save: $33.50 (35%)

NLT Premium Value Thinline Bible, Filament Enabled Edition-- soft leather-look, brown
Retail: $17.99
Our Price: $14.49
Save: $3.50 (19%)