---
Amplified Bible, Classic Edition
11 If you then, evil as you are, know how to give good and [a]advantageous gifts to your children, how much more will your Father Who is in heaven [perfect as He is] give good and [b]advantageous things to those who [c]keep on asking Him!
12 So then, whatever you desire that others would do to and for you, even so do also to and for them, for this is (sums up) the Law and the Prophets.
13 Enter through the narrow gate; for wide is the gate and spacious and broad is the way that leads away to destruction, and many are those who are entering through it.
Read full chapter
Amplified Bible, Classic Edition (AMPC)
Copyright © 1954, 1958, 1962, 1964, 1965, 1987 by The Lockman Foundation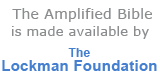 Bible Gateway Recommends
Amplified Topical Reference Bible, Bonded Leather, Black
Retail: $69.99
Our Price: $32.99
Save: $37.00 (53%)

Battlefield of the Mind Bible: Renew Your Mind Through the Power of God's Word
Retail: $29.99
Our Price: $19.99
Save: $10.00 (33%)

Amplified Bible, Battlefield Of The Mind Bible, Imitation Leather, Blue
Retail: $79.99
Our Price: $53.99
Save: $26.00 (33%)

Amplified Holy Bible, softcover
Retail: $19.99
Our Price: $13.99
Save: $6.00 (30%)
Classic Comparative Side-by-Side Bible (NIV, KJV, NASB, Amplified) , Bonded Leather
Retail: $89.99
Our Price: $57.99
Save: $32.00 (36%)

Battlefield of the Mind New Testament--soft leather-look, coral
Retail: $24.99
Our Price: $16.99
Save: $8.00 (32%)