---
5 And said, (A)For this cause, shall a man leave father and mother, and [a]cleave unto his wife, and they which were [b]two, shall be one flesh?
Read full chapter
Footnotes
Matthew 19:5 The Greek word imported to be glued unto, whereby is signified that straight knot, which is between man and wife, as though they were glued together.
Matthew 19:5 They which were two, become as it were one: and this word flesh is by a figure taken for the whole man, or the body after the manner of the Hebrews.
New International Version
5 and said, 'For this reason a man will leave his father and mother and be united to his wife, and the two will become one flesh'[a]?(A)
Read full chapter
1599 Geneva Bible (GNV)
Geneva Bible, 1599 Edition. Published by Tolle Lege Press. All rights reserved. No part of this publication may be reproduced or transmitted in any form or by any means, electronic or mechanical, without written permission from the publisher, except in the case of brief quotations in articles, reviews, and broadcasts.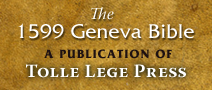 New International Version (NIV)
Holy Bible, New International Version®, NIV® Copyright ©1973, 1978, 1984, 2011 by Biblica, Inc.® Used by permission. All rights reserved worldwide.
NIV Reverse Interlinear Bible: English to Hebrew and English to Greek. Copyright © 2019 by Zondervan.