---
Jesus Calms the Storm
35 As evening came, Jesus said to his disciples, "Let's cross to the other side of the lake." 36 So they took Jesus in the boat and started out, leaving the crowds behind (although other boats followed). 37 But soon a fierce storm came up. High waves were breaking into the boat, and it began to fill with water.
38 Jesus was sleeping at the back of the boat with his head on a cushion. The disciples woke him up, shouting, "Teacher, don't you care that we're going to drown?"
39 When Jesus woke up, he rebuked the wind and said to the waves, "Silence! Be still!" Suddenly the wind stopped, and there was a great calm. 40 Then he asked them, "Why are you afraid? Do you still have no faith?"
41 The disciples were absolutely terrified. "Who is this man?" they asked each other. "Even the wind and waves obey him!"
Read full chapter
New Living Translation (NLT)
Holy Bible, New Living Translation, copyright © 1996, 2004, 2015 by Tyndale House Foundation. Used by permission of Tyndale House Publishers, Inc., Carol Stream, Illinois 60188. All rights reserved.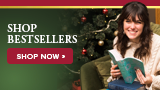 Bible Gateway Recommends
NLT One Year Chronological Bible Creative Expressions, Softcover
Retail: $22.99
Our Price: $18.99
Save: $4.00 (17%)
NLT Life Application Study Bible, Third Edition--soft leather-look, brown/tan (indexed) (red letter)
Retail: $84.99
Our Price: $58.99
Save: $26.00 (31%)

NLT One Year Chronological Study Bible, Hardcover
Retail: $29.99
Our Price: $20.99
Save: $9.00 (30%)
NLT Life Application Large-Print Study Bible, Third Edition--soft leather-look, teal (indexed)
Retail: $94.99
Our Price: $62.49
Save: $32.50 (34%)
NLT Life Application Study Bible, Third Edition--Value Edition, Black Genuine Leather
Retail: $99.99
Our Price: $57.99
Save: $42.00 (42%)
NLT Large-Print Premium Value Thinline Bible, Filament Enabled Edition--soft leather-look, brown
Retail: $22.99
Our Price: $18.99
Save: $4.00 (17%)