---
Jesus Prays in Gethsemane
32 They went to the olive grove called Gethsemane, and Jesus said, "Sit here while I go and pray." 33 He took Peter, James, and John with him, and he became deeply troubled and distressed. 34 He told them, "My soul is crushed with grief to the point of death. Stay here and keep watch with me."
35 He went on a little farther and fell to the ground. He prayed that, if it were possible, the awful hour awaiting him might pass him by. 36 "Abba, Father,"[a] he cried out, "everything is possible for you. Please take this cup of suffering away from me. Yet I want your will to be done, not mine."
37 Then he returned and found the disciples asleep. He said to Peter, "Simon, are you asleep? Couldn't you watch with me even one hour? 38 Keep watch and pray, so that you will not give in to temptation. For the spirit is willing, but the body is weak."
39 Then Jesus left them again and prayed the same prayer as before. 40 When he returned to them again, he found them sleeping, for they couldn't keep their eyes open. And they didn't know what to say.
41 When he returned to them the third time, he said, "Go ahead and sleep. Have your rest. But no—the time has come. The Son of Man is betrayed into the hands of sinners. 42 Up, let's be going. Look, my betrayer is here!"
Read full chapter
Footnotes
14:36 Abba is an Aramaic term for "father."
New Living Translation (NLT)
Holy Bible, New Living Translation, copyright © 1996, 2004, 2015 by Tyndale House Foundation. Used by permission of Tyndale House Publishers, Inc., Carol Stream, Illinois 60188. All rights reserved.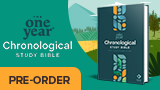 Bible Gateway Recommends
NLT Outreach Bible, Large Print Edition
Retail: $6.99
Our Price: $4.99
Save: $2.00 (29%)
NLT Life Recovery Bible, Large Print
Retail: $34.99
Our Price: $27.99
Save: $7.00 (20%)
NLT Compact Giant Print Bible, Filament Enabled Edition (Red Letter, LeatherLike, Navy Blue Cross, Indexed)
Retail: $44.99
Our Price: $29.99
Save: $15.00 (33%)
NLT Giant-Print Personal-Size Bible, Filament Enabled Edition--soft leather-look, peony/pink
Retail: $39.99
Our Price: $21.99
Save: $18.00 (45%)
My First Hands-on Bible--soft leather-look, pretty pink
Retail: $19.99
Our Price: $15.99
Save: $4.00 (20%)

NLT Hands-On Bible, Hardcover
Retail: $29.99
Our Price: $23.99
Save: $6.00 (20%)