---
Amplified Bible, Classic Edition
35 Then they [themselves] [a]related [in full] what had happened on the road, and how He was known and recognized by them in the breaking of bread.
36 Now while they were talking about this, Jesus Himself took His stand among them and said to them, Peace ([b]freedom from all the distresses that are experienced as the result of sin) be to you!
37 But they were so startled and terrified that they thought they saw a spirit.
Read full chapter
Footnotes
Luke 24:35 Marvin Vincent, Word Studies.
Luke 24:36 Hermann Cremer, Biblico-Theological Lexicon.
Amplified Bible, Classic Edition (AMPC)
Copyright © 1954, 1958, 1962, 1964, 1965, 1987 by The Lockman Foundation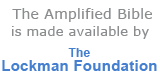 Bible Gateway Recommends
Amplified Large-Print Bible--bonded leather, burgundy
Retail: $69.99
Our Price: $41.49
Save: $28.50 (41%)

Amplified Outreach Bible, Paperback, Case of 24
Retail: $167.76
Our Price: $79.49
Save: $88.27 (53%)
Classic Comparative Side-by-Side Bible (NIV, KJV, NASB, Amplified) , Bonded Leather
Retail: $89.99
Our Price: $52.99
Save: $37.00 (41%)

Amplified Thinline Holy Bible--bonded leather, black (indexed) - Slightly Imperfect
Retail: $59.99
Our Price: $30.59
Save: $29.40 (49%)
NKJV Amplified Parallel Large-Print Bible Flexisoft, Blue/Brown
Retail: $79.95
Our Price: $46.99
Save: $32.96 (41%)

Amplified Compact Holy Bible, hardcover
Retail: $14.99
Our Price: $8.99
Save: $6.00 (40%)