---
23 When the soldiers had crucified Jesus, they divided his clothes among the four of them. They also took his robe, but it was seamless, woven in one piece from top to bottom. 24 So they said, "Rather than tearing it apart, let's throw dice[a] for it." This fulfilled the Scripture that says, "They divided my garments among themselves and threw dice for my clothing."[b] So that is what they did.
25 Standing near the cross were Jesus' mother, and his mother's sister, Mary (the wife of Clopas), and Mary Magdalene. 26 When Jesus saw his mother standing there beside the disciple he loved, he said to her, "Dear woman, here is your son." 27 And he said to this disciple, "Here is your mother." And from then on this disciple took her into his home.
The Death of Jesus
28 Jesus knew that his mission was now finished, and to fulfill Scripture he said, "I am thirsty."[c] 29 A jar of sour wine was sitting there, so they soaked a sponge in it, put it on a hyssop branch, and held it up to his lips. 30 When Jesus had tasted it, he said, "It is finished!" Then he bowed his head and gave up his spirit.
Read full chapter
New Living Translation (NLT)
Holy Bible, New Living Translation, copyright © 1996, 2004, 2015 by Tyndale House Foundation. Used by permission of Tyndale House Publishers, Inc., Carol Stream, Illinois 60188. All rights reserved.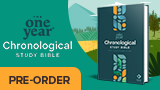 Bible Gateway Recommends
NLT Children's Outreach Bible, Softcover
Retail: $3.99
Our Price: $2.79
Save: $1.20 (30%)

NLT Giant-Print Personal-Size Bible, Filament Enabled Edition--soft leather-look, peony/pink
Retail: $39.99
Our Price: $21.99
Save: $18.00 (45%)
NLT Premium Value Thinline Bible, Filament Enabled Edition--soft leather-look, teal
Retail: $17.99
Our Price: $12.49
Save: $5.50 (31%)
NLT Large-Print Premium Value Thinline Bible, Filament Enabled Edition--soft leather-look, brown
Retail: $22.99
Our Price: $15.99
Save: $7.00 (30%)
NLT Hands-On Bible, Softcover
Retail: $19.99
Our Price: $15.99
Save: $4.00 (20%)
NLT Life Application Large-Print Study Bible, Third Edition--hardcover, red letter (indexed)
Retail: $74.99
Our Price: $52.99
Save: $22.00 (29%)