---
10 
The earth quakes before them,
The heavens tremble,
The sun and the moon grow dark
And the stars lose their brightness.(A)
11 
The Lord utters His voice before His army,
For His camp is very great,
Because strong and powerful is he who [obediently] carries out His word.
For the day of the Lord is indeed great and very terrible [causing dread];
Who can endure it?(B)
12 
"Even now," says the Lord,
"Turn and come to Me with all your heart [in genuine repentance],
With fasting and weeping and mourning [until every barrier is removed and the broken fellowship is restored];
Read full chapter
New International Version
10 Before them the earth shakes,(A)
the heavens tremble,(B)
the sun and moon are darkened,(C)
and the stars no longer shine.(D)
11 The Lord(E) thunders(F)
at the head of his army;(G)
his forces are beyond number,
and mighty is the army that obeys his command.
The day of the Lord is great;(H)
it is dreadful.
Who can endure it?(I)
Rend Your Heart
12 "Even now," declares the Lord,
"return(J) to me with all your heart,(K)
with fasting and weeping and mourning."
Read full chapter
10 The earth shall quake before them; the heavens shall tremble: the sun and the moon shall be dark, and the stars shall withdraw their shining:
11 And the Lord shall utter his voice before his army: for his camp is very great: for he is strong that executeth his word: for the day of the Lord is great and very terrible; and who can abide it?
12 Therefore also now, saith the Lord, turn ye even to me with all your heart, and with fasting, and with weeping, and with mourning:
Read full chapter
Amplified Bible (AMP)
Copyright © 2015 by The Lockman Foundation, La Habra, CA 90631. All rights reserved.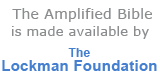 New International Version (NIV)
Holy Bible, New International Version®, NIV® Copyright ©1973, 1978, 1984, 2011 by Biblica, Inc.® Used by permission. All rights reserved worldwide.
NIV Reverse Interlinear Bible: English to Hebrew and English to Greek. Copyright © 2019 by Zondervan.