---
Amplified Bible, Classic Edition
13 God will not withdraw His anger; the [proud] helpers of Rahab [arrogant monster of the sea] bow under Him.
14 How much less shall I answer Him, choosing out my words to reason with Him
15 Whom, though I were righteous (upright and innocent) yet I could not answer? I must appeal for mercy to my Opponent and Judge [for my right].
Read full chapter
Amplified Bible, Classic Edition (AMPC)
Copyright © 1954, 1958, 1962, 1964, 1965, 1987 by The Lockman Foundation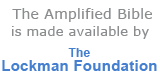 Bible Gateway Recommends
Classic Comparative Side-by-Side Bible (NIV, KJV, NASB, Amplified)
Retail: $54.99
Our Price: $32.99
Save: $22.00 (40%)
Amplified Reading Bible, Imitation Leather, Brown, Indexed
Retail: $59.99
Our Price: $38.99
Save: $21.00 (35%)
Battlefield of the Mind New Testament--soft leather-look, coral
Retail: $24.99
Our Price: $17.49
Save: $7.50 (30%)
Classic Comparative Side-by-Side Bible (NIV, KJV, NASB, Amplified) , Bonded Leather
Retail: $89.99
Our Price: $52.99
Save: $37.00 (41%)
Battlefield of the Mind Bible: Renew Your Mind Through the Power of God's Word
Retail: $29.99
Our Price: $19.99
Save: $10.00 (33%)
Amplified Thinline Holy Bible--bonded leather, burgundy
Retail: $49.99
Our Price: $29.99
Save: $20.00 (40%)