---
10 They treat me with disgust;
they think they are too good for me,
and even come and spit in my face.
11 Because God has made me weak and helpless,
they turn against me with all their fury.
12 This mob attacks me head-on;
they send me running; they prepare their final assault.
Read full chapter
New International Version
10 They detest me(A) and keep their distance;
they do not hesitate to spit in my face.(B)
11 Now that God has unstrung my bow(C) and afflicted me,(D)
they throw off restraint(E) in my presence.
12 On my right(F) the tribe[a] attacks;
they lay snares(G) for my feet,(H)
they build their siege ramps against me.(I)
Read full chapter
Footnotes
Job 30:12 The meaning of the Hebrew for this word is uncertain.
Good News Translation (GNT)
Copyright © 1992 by American Bible Society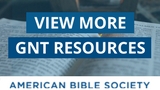 New International Version (NIV)
Holy Bible, New International Version®, NIV® Copyright ©1973, 1978, 1984, 2011 by Biblica, Inc.® Used by permission. All rights reserved worldwide.
NIV Reverse Interlinear Bible: English to Hebrew and English to Greek. Copyright © 2019 by Zondervan.