---
21 Voices are heard high on the windswept mountains,
the weeping and pleading of Israel's people.
For they have chosen crooked paths
and have forgotten the Lord their God.
22 "My wayward children," says the Lord,
"come back to me, and I will heal your wayward hearts."
"Yes, we're coming," the people reply,
"for you are the Lord our God.
23 Our worship of idols on the hills
and our religious orgies on the mountains
are a delusion.
Only in the Lord our God
will Israel ever find salvation.
24 From childhood we have watched
as everything our ancestors worked for—
their flocks and herds, their sons and daughters—
was squandered on a delusion.
25 Let us now lie down in shame
and cover ourselves with dishonor,
for we and our ancestors have sinned
against the Lord our God.
From our childhood to this day
we have never obeyed him."
4 "O Israel," says the Lord,
"if you wanted to return to me, you could.
You could throw away your detestable idols
and stray away no more.
2 Then when you swear by my name, saying,
'As surely as the Lord lives,'
you could do so
with truth, justice, and righteousness.
Then you would be a blessing to the nations of the world,
and all people would come and praise my name."
Coming Judgment against Judah
3 This is what the Lord says to the people of Judah and Jerusalem:
"Plow up the hard ground of your hearts!
Do not waste your good seed among thorns.
4 O people of Judah and Jerusalem,
surrender your pride and power.
Change your hearts before the Lord,[a]
or my anger will burn like an unquenchable fire
because of all your sins.
Footnotes
4:4 Hebrew Circumcise yourselves to the Lord, and take away the foreskins of your heart.
Jeremiah Speaks at the Temple
7 The Lord gave another message to Jeremiah. He said, 2 "Go to the entrance of the Lord's Temple, and give this message to the people: 'O Judah, listen to this message from the Lord! Listen to it, all of you who worship here! 3 This is what the Lord of Heaven's Armies, the God of Israel, says:
"'Even now, if you quit your evil ways, I will let you stay in your own land. 4 But don't be fooled by those who promise you safety simply because the Lord's Temple is here. They chant, "The Lord's Temple is here! The Lord's Temple is here!" 5 But I will be merciful only if you stop your evil thoughts and deeds and start treating each other with justice; 6 only if you stop exploiting foreigners, orphans, and widows; only if you stop your murdering; and only if you stop harming yourselves by worshiping idols. 7 Then I will let you stay in this land that I gave to your ancestors to keep forever.
Read full chapter
New Living Translation (NLT)
Holy Bible, New Living Translation, copyright © 1996, 2004, 2015 by Tyndale House Foundation. Used by permission of Tyndale House Publishers, Inc., Carol Stream, Illinois 60188. All rights reserved.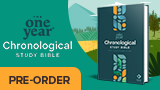 Bible Gateway Recommends
NLT Compact Giant Print Bible, Filament Enabled Edition (Red Letter, LeatherLike, Navy Blue Cross)
Retail: $34.99
Our Price: $23.99
Save: $11.00 (31%)
NLT Giant-Print Personal-Size Bible, Filament Enabled Edition--soft leather-look, peony/pink
Retail: $39.99
Our Price: $21.99
Save: $18.00 (45%)
NLT Hands-On Bible, Hardcover
Retail: $29.99
Our Price: $23.99
Save: $6.00 (20%)
NLT New Spirit Filled Life Bible, Imitation Leather, Rich Stone
Retail: $79.99
Our Price: $52.99
Save: $27.00 (34%)
NLT Chronological Life Application Study Bible, Hardcover
Retail: $59.99
Our Price: $47.99
Save: $12.00 (20%)
NLT The Life Recovery Bible, Softcover
Retail: $27.99
Our Price: $21.49
Save: $6.50 (23%)