---
Contemporary English Version
13 and he burned down the Lord's temple, the king's palace, and every important building in the city, as well as all the houses. 14 Then he ordered the Babylonian soldiers to break down the walls around Jerusalem. 15 He led away the people left in the city, including everyone who had become loyal to Nebuchadnezzar, the rest of the skilled workers,[a] and even some of the poor people of Judah.
Read full chapter
Footnotes
52.15 the rest of the skilled workers: Nebuchadnezzar had taken away some of the skilled workers eleven years before (see 2 Kings 24.14-16).
New International Version
13 He set fire(A) to the temple(B) of the Lord, the royal palace and all the houses(C) of Jerusalem. Every important building he burned down. 14 The whole Babylonian army, under the commander of the imperial guard, broke down all the walls(D) around Jerusalem. 15 Nebuzaradan the commander of the guard carried into exile(E) some of the poorest people and those who remained in the city, along with the rest of the craftsmen[a] and those who had deserted(F) to the king of Babylon.
Read full chapter
Contemporary English Version (CEV)
Copyright © 1995 by American Bible Society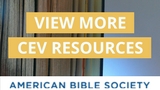 New International Version (NIV)
Holy Bible, New International Version®, NIV® Copyright ©1973, 1978, 1984, 2011 by Biblica, Inc.® Used by permission. All rights reserved worldwide.
NIV Reverse Interlinear Bible: English to Hebrew and English to Greek. Copyright © 2019 by Zondervan.