---
9 (A)He that abideth in this city, shall die by the sword, and by the famine, and by the pestilence: but he that goeth out, and falleth to the Chaldeans, that besiege you, he shall live, and his life shall be unto him for a [a]prey.
10 For I have set my face against this city, for evil and not for good, saith the Lord: it shall be given into the hand of the king of Babel, and he shall burn it with fire.
11 ¶ And say unto the house of the King of Judah, Hear ye the word of the Lord.
Read full chapter
New International Version
9 Whoever stays in this city will die by the sword, famine or plague.(A) But whoever goes out and surrenders(B) to the Babylonians who are besieging you will live; they will escape with their lives.(C) 10 I have determined to do this city harm(D) and not good, declares the Lord. It will be given into the hands(E) of the king of Babylon, and he will destroy it with fire.'(F)
11 "Moreover, say to the royal house(G) of Judah, 'Hear the word of the Lord.
Read full chapter
1599 Geneva Bible (GNV)
Geneva Bible, 1599 Edition. Published by Tolle Lege Press. All rights reserved. No part of this publication may be reproduced or transmitted in any form or by any means, electronic or mechanical, without written permission from the publisher, except in the case of brief quotations in articles, reviews, and broadcasts.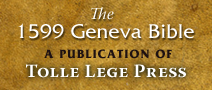 New International Version (NIV)
Holy Bible, New International Version®, NIV® Copyright ©1973, 1978, 1984, 2011 by Biblica, Inc.® Used by permission. All rights reserved worldwide.
NIV Reverse Interlinear Bible: English to Hebrew and English to Greek. Copyright © 2019 by Zondervan.