---
Amplified Bible, Classic Edition
17 For behold, I create [a]new heavens and a new earth. And the former things shall not be remembered or come into mind.(A)
Read full chapter
Footnotes
Isaiah 65:17 A new universe is meant here. The Hebrew language has no single word to express the concept of cosmos or universe, so heavens and earth are substituted.
Amplified Bible, Classic Edition
22 For as the new [a]heavens and the new earth which I make shall remain before Me, says the Lord, so shall your offspring and your name remain.
Read full chapter
Amplified Bible, Classic Edition
21 Then I saw a new [a]sky (heaven) and a new earth, for the former [b]sky and the former earth had passed away (vanished), and there no longer existed any sea.(A)
Read full chapter
Amplified Bible, Classic Edition (AMPC)
Copyright © 1954, 1958, 1962, 1964, 1965, 1987 by The Lockman Foundation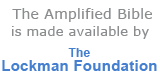 Bible Gateway Recommends
Classic Comparative Side-by-Side Bible (NIV, KJV, NASB, Amplified) , Bonded Leather
Retail: $89.99
Our Price: $57.99
Save: $32.00 (36%)

Amplified Compact Holy Bible, hardcover
Retail: $14.99
Our Price: $9.99
Save: $5.00 (33%)

Amplified Topical Reference Bible, Bonded Leather, Black
Retail: $69.99
Our Price: $32.99
Save: $37.00 (53%)

Amplified Bible, Large Print leather-look, brown/dark brown- index
Retail: $79.99
Our Price: $52.99
Save: $27.00 (34%)

KJV and Amplified Parallel Bible, Large Print, Bonded Leather, Black
Retail: $79.99
Our Price: $53.99
Save: $26.00 (33%)

The Amplified Study Bible, eBook - eBook
Our Price: $14.99