---
53 Who has believed our message?
To whom has the Lord revealed his powerful arm?
2 My servant grew up in the Lord's presence like a tender green shoot,
like a root in dry ground.
There was nothing beautiful or majestic about his appearance,
nothing to attract us to him.
3 He was despised and rejected—
a man of sorrows, acquainted with deepest grief.
We turned our backs on him and looked the other way.
He was despised, and we did not care.
4 Yet it was our weaknesses he carried;
it was our sorrows[a] that weighed him down.
And we thought his troubles were a punishment from God,
a punishment for his own sins!
5 But he was pierced for our rebellion,
crushed for our sins.
He was beaten so we could be whole.
He was whipped so we could be healed.
6 All of us, like sheep, have strayed away.
We have left God's paths to follow our own.
Yet the Lord laid on him
the sins of us all.
7 He was oppressed and treated harshly,
yet he never said a word.
He was led like a lamb to the slaughter.
And as a sheep is silent before the shearers,
he did not open his mouth.
8 Unjustly condemned,
he was led away.[b]
No one cared that he died without descendants,
that his life was cut short in midstream.[c]
But he was struck down
for the rebellion of my people.
9 He had done no wrong
and had never deceived anyone.
But he was buried like a criminal;
he was put in a rich man's grave.
10 But it was the Lord's good plan to crush him
and cause him grief.
Yet when his life is made an offering for sin,
he will have many descendants.
He will enjoy a long life,
and the Lord's good plan will prosper in his hands.
11 When he sees all that is accomplished by his anguish,
he will be satisfied.
And because of his experience,
my righteous servant will make it possible
for many to be counted righteous,
for he will bear all their sins.
12 I will give him the honors of a victorious soldier,
because he exposed himself to death.
He was counted among the rebels.
He bore the sins of many and interceded for rebels.
Future Glory for Jerusalem
54 "Sing, O childless woman,
you who have never given birth!
Break into loud and joyful song, O Jerusalem,
you who have never been in labor.
For the desolate woman now has more children
than the woman who lives with her husband,"
says the Lord.
2 "Enlarge your house; build an addition.
Spread out your home, and spare no expense!
3 For you will soon be bursting at the seams.
Your descendants will occupy other nations
and resettle the ruined cities.
4 "Fear not; you will no longer live in shame.
Don't be afraid; there is no more disgrace for you.
You will no longer remember the shame of your youth
and the sorrows of widowhood.
5 For your Creator will be your husband;
the Lord of Heaven's Armies is his name!
He is your Redeemer, the Holy One of Israel,
the God of all the earth.
6 For the Lord has called you back from your grief—
as though you were a young wife abandoned by her husband,"
says your God.
7 "For a brief moment I abandoned you,
but with great compassion I will take you back.
8 In a burst of anger I turned my face away for a little while.
But with everlasting love I will have compassion on you,"
says the Lord, your Redeemer.
9 "Just as I swore in the time of Noah
that I would never again let a flood cover the earth,
so now I swear
that I will never again be angry and punish you.
10 For the mountains may move
and the hills disappear,
but even then my faithful love for you will remain.
My covenant of blessing will never be broken,"
says the Lord, who has mercy on you.
11 "O storm-battered city,
troubled and desolate!
I will rebuild you with precious jewels
and make your foundations from lapis lazuli.
12 I will make your towers of sparkling rubies,
your gates of shining gems,
and your walls of precious stones.
13 I will teach all your children,
and they will enjoy great peace.
14 You will be secure under a government that is just and fair.
Your enemies will stay far away.
You will live in peace,
and terror will not come near.
15 If any nation comes to fight you,
it is not because I sent them.
Whoever attacks you will go down in defeat.
16 "I have created the blacksmith
who fans the coals beneath the forge
and makes the weapons of destruction.
And I have created the armies that destroy.
17 But in that coming day
no weapon turned against you will succeed.
You will silence every voice
raised up to accuse you.
These benefits are enjoyed by the servants of the Lord;
their vindication will come from me.
I, the Lord, have spoken!
Footnotes
53:4 Or Yet it was our sicknesses he carried; / it was our diseases.
New Living Translation (NLT)
Holy Bible, New Living Translation, copyright © 1996, 2004, 2015 by Tyndale House Foundation. Used by permission of Tyndale House Publishers, Inc., Carol Stream, Illinois 60188. All rights reserved.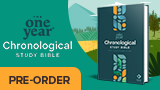 Bible Gateway Recommends
NLT Chronological Life Application Study Bible, Hardcover
Retail: $59.99
Our Price: $47.99
Save: $12.00 (20%)
NLT Life Application Large-Print Study Bible, Third Edition--soft leather-look, brown, mahogan, red letter (indexed)
Retail: $94.99
Our Price: $61.49
Save: $33.50 (35%)
NLT Life Recovery Bible, Personal Size
Retail: $22.99
Our Price: $16.99
Save: $6.00 (26%)
NLT Life Recovery Bible, Large Print
Retail: $34.99
Our Price: $27.99
Save: $7.00 (20%)
NLT Large-Print Premium Value Thinline Bible, Filament Enabled Edition--soft leather-look, teal
Retail: $22.99
Our Price: $15.99
Save: $7.00 (30%)
NLT Boys Life Application Study Bible, LeatherLike, Midnight/Blue
Retail: $49.99
Our Price: $36.99
Save: $13.00 (26%)