---
Amplified Bible, Classic Edition
17 The poor and needy are seeking water when there is none; their tongues are parched with thirst. I the Lord will answer them; I, the God of Israel, will not forsake them.
18 I will open rivers on the bare heights, and fountains in the midst of the valleys; I will make the wilderness a pool of water, and the dry land springs of water.
Read full chapter
Amplified Bible, Classic Edition
21 And they thirsted not when He led them through the deserts; He caused the waters to flow out of the rock for them; He split the rock also, and the waters gushed out.
Read full chapter
Amplified Bible, Classic Edition (AMPC)
Copyright © 1954, 1958, 1962, 1964, 1965, 1987 by The Lockman Foundation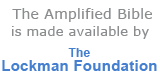 Bible Gateway Recommends
KJV and Amplified Parallel Bible, Large Print, Hardcover
Retail: $49.99
Our Price: $29.99
Save: $20.00 (40%)
La Biblia De La Vida Diaria, NVI: El poder de la Palabra de Dios para el diario vivir Everyday Life Bib,
Retail: $39.99
Our Price: $27.99
Save: $12.00 (30%)
Battlefield of the Mind New Testament--soft leather-look, coral
Retail: $24.99
Our Price: $16.49
Save: $8.50 (34%)
KJV and Amplified Parallel Bible, Large Print, Bonded Leather, Black
Retail: $79.99
Our Price: $47.99
Save: $32.00 (40%)
The Amplified Study Bible, eBook - eBook
Our Price: $14.99

Amplified & NKJV Parallel Bible Bonded Leather, Black, Large Print
Retail: $69.95
Our Price: $39.99
Save: $29.96 (43%)