---
Contemporary English Version
Isaiah Acts Out the Defeat of Egypt and Ethiopia
20 King Sargon of Assyria gave orders for his army commander to capture the city of Ashdod.[a] 2 About this same time the Lord had told me, "Isaiah, take off everything, including your sandals!" I did this and went around naked and barefoot 3 for three years.
Then the Lord said:
What Isaiah has done is a warning to Egypt and Ethiopia.[b] 4 Everyone in these two countries will be led away naked and barefoot by the king of Assyria. Young or old, they will be taken prisoner, and Egypt will be disgraced. 5 They will be confused and frustrated, because they depended on Ethiopia and bragged about Egypt. 6 When this happens, the people who live along the coast[c] will say, "Look what happened to them! We ran to them for safety, hoping they would protect us from the king of Assyria. But now, there is no escape for us."
New International Version
A Prophecy Against Egypt and Cush
20 In the year that the supreme commander,(A) sent by Sargon king of Assyria, came to Ashdod(B) and attacked and captured it— 2 at that time the Lord spoke through Isaiah son of Amoz.(C) He said to him, "Take off the sackcloth(D) from your body and the sandals(E) from your feet." And he did so, going around stripped(F) and barefoot.(G)
3 Then the Lord said, "Just as my servant(H) Isaiah has gone stripped and barefoot for three years,(I) as a sign(J) and portent(K) against Egypt(L) and Cush,[a](M) 4 so the king(N) of Assyria will lead away stripped(O) and barefoot the Egyptian captives(P) and Cushite(Q) exiles, young and old, with buttocks bared(R)—to Egypt's shame.(S) 5 Those who trusted(T) in Cush(U) and boasted in Egypt(V) will be dismayed and put to shame.(W) 6 In that day(X) the people who live on this coast will say, 'See what has happened(Y) to those we relied on,(Z) those we fled to for help(AA) and deliverance from the king of Assyria! How then can we escape?(AB)'"
Footnotes
Isaiah 20:3 That is, the upper Nile region; also in verse 5
Contemporary English Version (CEV)
Copyright © 1995 by American Bible Society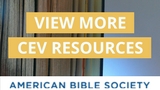 New International Version (NIV)
Holy Bible, New International Version®, NIV® Copyright ©1973, 1978, 1984, 2011 by Biblica, Inc.® Used by permission. All rights reserved worldwide.
NIV Reverse Interlinear Bible: English to Hebrew and English to Greek. Copyright © 2019 by Zondervan.