---
12 But Ahaz said, "[a]I will not ask, nor will I test the Lord!" 13 Then Isaiah said, "Hear then, O house of David! Is it too small a thing for you to try the patience of men, but will you try the patience of my God as well? 14 Therefore the Lord Himself will give you a sign: Listen carefully, the [b]virgin will conceive and give birth to a son, and she will call his name Immanuel (God with us).(A)
Read full chapter
Footnotes
Isaiah 7:12 This was a misplaced sense of faithfulness on Ahaz's part. It is wise not to ask God for a sign, unless He offers one as He did to Ahaz.
Isaiah 7:14 This prophecy of the virgin is declared in Matt 1:22, 23 to be fulfilled in the birth of Jesus. There has been a great deal of discussion over the Hebrew word found here for virgin (almah) and the word that Matthew uses (parthenos). The latter refers unambiguously to a virgin, while the former (almah) has been said to refer to a young woman, in contrast to the Hebrew word bethulah, which is the equivalent of the Gr parthenos. It has also been noted that the Septuagint, the Greek translation of the Hebrew OT, has parthenos here for almah, and that Matt 1:23 is taken from the Septuagint. Some have wondered why the Septuagint translators used the more specific word parthenos. It is fair to say that this question is the result of oversimplifying the vocabulary and misinterpreting the distinctions. The Hebrew words almah and bethulah can actually refer to the same kind of woman; almah is a youthful woman of marriageable age, one who has not yet had her first child, while bethulah is one who has not been touched in an intimate way. Furthermore, in the present context it would be unthinkable to infer that the woman might have had sexual relations outside of marriage. So the well-known translation of "young woman" for almah, while technically not incorrect, can be viewed as too ambiguous for the Hebrew word and the context. Parthenos was an appropriate choice in the Greek. Another word, kore (for "girl") could have been used, but it has a wider range of meaning than the Heb almah (Mark uses a related word, korasion, to translate Jesus' Aramaic word talitha). It should also be acknowledged from a theological perspective that when Matthew cites the verse with parthenos, he thereby authenticates it as inspired.
New International Version
12 But Ahaz said, "I will not ask; I will not put the Lord to the test.(A)"
13 Then Isaiah said, "Hear now, you house of David!(B) Is it not enough(C) to try the patience of humans? Will you try the patience(D) of my God(E) also? 14 Therefore the Lord himself will give you[a] a sign:(F) The virgin[b](G) will conceive and give birth to a son,(H) and[c] will call him Immanuel.[d](I)
Read full chapter
Amplified Bible (AMP)
Copyright © 2015 by The Lockman Foundation, La Habra, CA 90631. All rights reserved.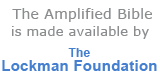 New International Version (NIV)
Holy Bible, New International Version®, NIV® Copyright ©1973, 1978, 1984, 2011 by Biblica, Inc.® Used by permission. All rights reserved worldwide.
NIV Reverse Interlinear Bible: English to Hebrew and English to Greek. Copyright © 2019 by Zondervan.