---
Contemporary English Version
The Lord Will Help His People
14 For a long time, I, the Lord,
have held my temper;
now I will scream and groan
like a woman giving birth.
15 I will destroy the mountains
and what grows on them;
I will dry up rivers and ponds.
16 I will lead the blind on roads
they have never known;
I will guide them on paths
they have never traveled.
Their road is dark and rough,
but I will give light
to keep them from stumbling.
This is my solemn promise.
Read full chapter
New International Version
14 "For a long time I have kept silent,(A)
I have been quiet and held myself back.(B)
But now, like a woman in childbirth,
I cry out, I gasp and pant.(C)
15 I will lay waste(D) the mountains(E) and hills
and dry up all their vegetation;
I will turn rivers into islands
and dry up(F) the pools.
16 I will lead(G) the blind(H) by ways they have not known,
along unfamiliar paths I will guide them;
I will turn the darkness into light(I) before them
and make the rough places smooth.(J)
These are the things I will do;
I will not forsake(K) them.
Read full chapter
Contemporary English Version (CEV)
Copyright © 1995 by American Bible Society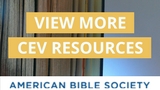 New International Version (NIV)
Holy Bible, New International Version®, NIV® Copyright ©1973, 1978, 1984, 2011 by Biblica, Inc.® Used by permission. All rights reserved worldwide.
NIV Reverse Interlinear Bible: English to Hebrew and English to Greek. Copyright © 2019 by Zondervan.