---
6 He asked me, "Have you been watching, son of man?" Then he led me back along the riverbank. 7 When I returned, I was surprised by the sight of many trees growing on both sides of the river. 8 Then he said to me, "This river flows east through the desert into the valley of the Dead Sea.[a] The waters of this stream will make the salty waters of the Dead Sea fresh and pure. 9 There will be swarms of living things wherever the water of this river flows.[b] Fish will abound in the Dead Sea, for its waters will become fresh. Life will flourish wherever this water flows. 10 Fishermen will stand along the shores of the Dead Sea. All the way from En-gedi to En-eglaim, the shores will be covered with nets drying in the sun. Fish of every kind will fill the Dead Sea, just as they fill the Mediterranean.[c] 11 But the marshes and swamps will not be purified; they will still be salty. 12 Fruit trees of all kinds will grow along both sides of the river. The leaves of these trees will never turn brown and fall, and there will always be fruit on their branches. There will be a new crop every month, for they are watered by the river flowing from the Temple. The fruit will be for food and the leaves for healing."
Read full chapter
2 It flowed down the center of the main street. On each side of the river grew a tree of life, bearing twelve crops of fruit,[a] with a fresh crop each month. The leaves were used for medicine to heal the nations.
Read full chapter
Footnotes
22:2 Or twelve kinds of fruit.
New Living Translation (NLT)
Holy Bible, New Living Translation, copyright © 1996, 2004, 2015 by Tyndale House Foundation. Used by permission of Tyndale House Publishers, Inc., Carol Stream, Illinois 60188. All rights reserved.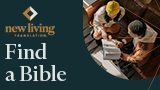 Bible Gateway Recommends
NLT Life Application Large-Print Study Bible, Third Edition--soft leather-look, brown/mahogany (red letter)
Retail: $84.99
Our Price: $62.99
Save: $22.00 (26%)

NLT One Step Closer Bible, Imitation Leather
Retail: $64.99
Our Price: $47.99
Save: $17.00 (26%)

NLT Giant-Print Personal-Size Bible, Filament Enabled Edition--genuine leather, brown
Retail: $69.99
Our Price: $51.99
Save: $18.00 (26%)

NLT Life Application Large-Print Study Bible, Third Edition--soft leather-look, brown, tan, red letter (indexed)
Retail: $94.99
Our Price: $69.99
Save: $25.00 (26%)

The Book of Psalms: Raw, Honest Poems Telling the Stories of Humans and the Desire to Know God, NLT
Retail: $38.00
Our Price: $27.99
Save: $10.01 (26%)

NLT Chronological Life Application Study Bible, Hardcover
Retail: $59.99
Our Price: $47.99
Save: $12.00 (20%)